Smashy Road: Wanted is a Windows PC game where players can test their driving skills and weave through obstacles. With 90 unlockable vehicles and different terrains to explore, players can indulge in high-speed vehicular action.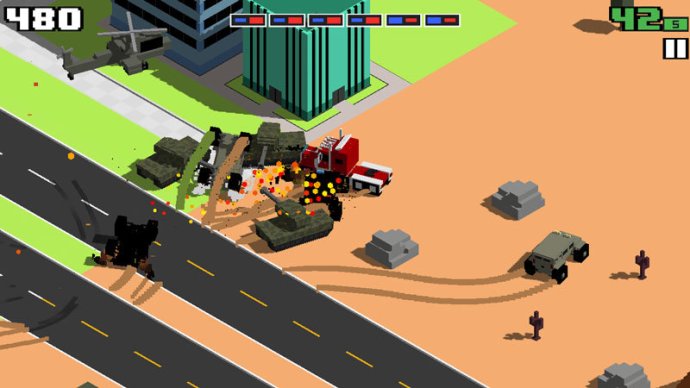 If you're looking for a new, action-packed game that will challenge your driving skills, Smashy Road: WANTED is the latest installment in the Smashy Road franchise that you'll want to check out! With up to 90 vehicles that you can master and unlock, this game will redefine your driving experience. From racing through deserts, grasslands, cities, and other environments, to venturing into secret areas, you'll be able to experience it all and reap great rewards!

However, the road to the rewards won't be a smooth ride, as you'll need to avoid being busted by the police, swat teams, and military. How long do you think you can outrun them for? With 90 new unique vehicles to unlock, each with their own abilities, you'll be able to up your game and stay ahead of your pursuers!

The game features a randomly generated unique environment with hidden areas that you can play with. The stunning graphics and great soundtrack will transport you to different worlds, and the intense action will keep you engaged for hours. You'll have to escape from all kinds of pursuers – police, army jeeps, SWAT, and even war tanks!

To add to the competition, the game also has an online leaderboard where you can check your score against your friends. So, what are you waiting for? Get your crash helmets and SMASH THE ROAD NOW!
What's New
Version 1.0: N/A