Softaken's IMAP Attachment Extractor is a software tool that allows users to extract attachments from multiple IMAP servers by simply providing login details. The software can extract all or selected attachments with high accuracy from IMAP Mail folders.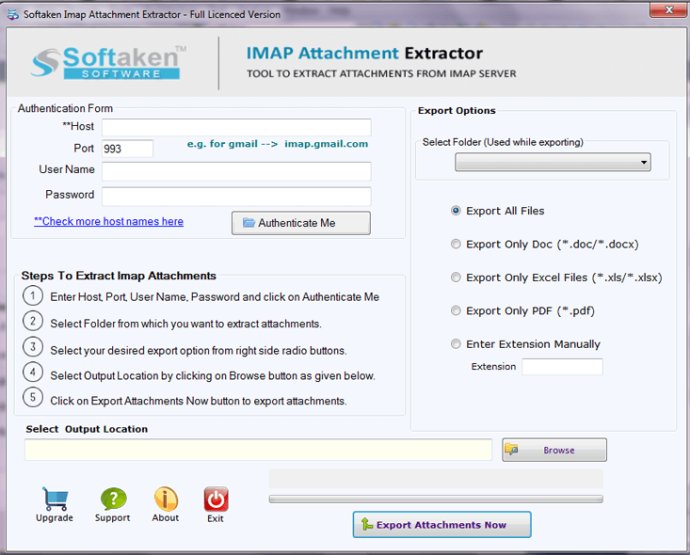 Softaken IMAP Attachment Extractor is a top-notch and automated software designed to extract attachments from IMAP servers in just a few clicks. Its self-explanatory interface makes it easy to operate and suitable for all types of users.

The program can effortlessly extract attachments from email folders of IMAP accounts, including Gmail, G Suite, Office 365, Yahoo, AOL, RediffMail, and others. All you need to do is enter the valid login details of the desired IMAP account and follow the tool's instructions. Additionally, no additional programs are required for the extraction process.

Softaken IMAP Attachment Extractor can smoothly process attachments of all types, such as XLS, DOC, PDF, JPG, PNG, HTML, and more, from IMAP Mail accounts. If you wish to export selected attachments, you can select the respective IMAP account folder with a few clicks, and the tool will smoothly separate the attachments.

Furthermore, users can manually enter a particular file extension to extract IMAP account attachments. The software exports attachments without any harm to email properties (to, cc, bcc, from, date, subject), email formatting (hyperlinks, signatures, inline images, font styles), and mailbox folder hierarchy. The application ensures complete protection of all details.

In case you wish to try the software before purchase, you can download the freeware IMAP Server Attachment Extractor that allows the extraction of only ten attachments for each IMAP Mailbox Folder. The program is compatible with all Windows OS versions, including Windows 10, 8.1, 8, and older editions.

In any case of query, the product's technical support team is available 24*7 to assist users.
What's New
Version 1.0: n