Softaken MSG Attachment Extractor is a tool that helps extract attachments from Outlook MSG files. It allows bulk loading of MSG files to extract attachments and email addresses without the need for installing Microsoft Outlook.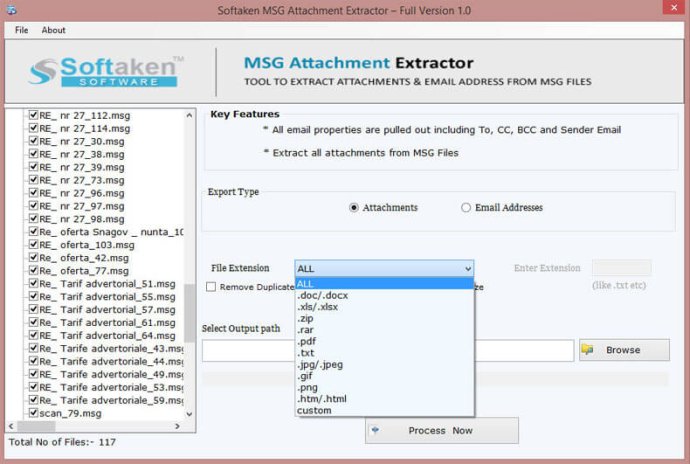 Softaken MSG Attachment Extractor is a useful software that allows you to easily extract attachments from Outlook MSG emails. With the ability to support bulk extraction, the program saves significant amounts of time when processing large quantities of files.

The application works by removing attachments from healthy MSG files, which in turn reduces the size of the Outlook database and improves functionality. Additionally, the utility also pulls out MSG email addresses from various fields such as to, from, cc, bcc, among others.

A key advantage of Softaken MSG Attachment Extractor is that it performs dual tasks, removing attachments and extracting email addresses, in a single application. Another benefit is that it does not require the installation of MS Outlook, making it accessible to all users.

One of the strengths of the software is its ease of use, with self-explained steps that make it simple for anyone to handle it. Furthermore, there is no limit on the number or size of MSG files that can have attachments removed.

The program supports all editions of MS Outlook including recent versions such as Outlook 2019, 2016, 2013, among others. Users also do not have to worry about file misplacement when extracting attachments, as the data structure is unchanged.

Softaken MSG Attachment Extractor can extract attachments from various file types such as PDF, DOC, TXT, JPG, XLS, and others. Users can choose to remove all attachments or only selected file extension types. To help users evaluate the software, a free trial version is available for download.

Lastly, the program is compatible with all versions of Windows operating systems without creating any type of issues. In case users have any questions or issues, there is online support available 24*7 to provide assistance.
What's New
Version 1.0: n