Softaken Unlock PDF Tool unlocks PDFs for easy copying, editing, and printing. It handles large files and offers batch PDF unlocking. It is compatible with all Windows versions.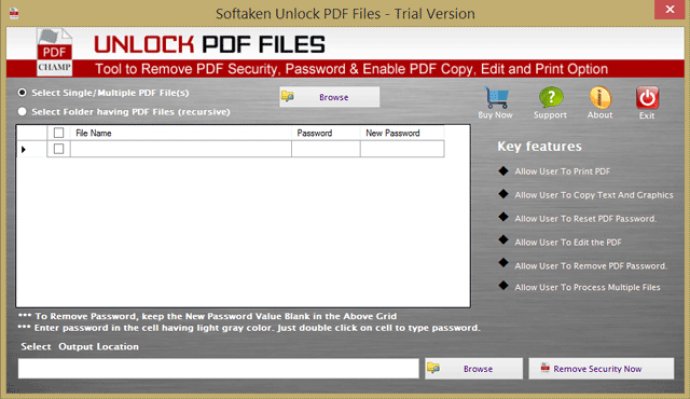 Softaken Unlock PDF Tool is a highly efficient software application designed to help users easily remove PDF protection, even in the absence of Adobe Acrobat. With just a few clicks, this tool lets you unlock password-protected PDF files and remove any restrictions on them, enabling you to copy, edit, and print PDFs as needed.

This utility has been developed with the needs of all kinds of users in mind. So regardless of whether you're a technical or non-technical user, you'll find it incredibly easy to use. The intuitive interface provides step-by-step guidance on how to use the tool, eliminating the need for any additional support or tools.

One of the key benefits of Softaken Unlock PDF Tool is that it lets you unlock an unlimited number of PDF files in a single batch, without any constraints around file size. This ensures that you can unlock PDF files efficiently and without any hassle. Plus, you can be sure that the tool won't make any changes to your original files or their internal structure.

Another significant advantage of this software application is that it provides 100% data safety with no risk of data loss or corruption. You can be sure that your files will remain secure and well-protected when using Softaken Unlock PDF Tool.

This tool is compatible with all Windows OS versions, including Windows XP, Vista, 7, 8, and 10. Additionally, it allows users to reset PDF passwords and provides a complete list of selected folders where users can remove mistakenly loaded PDF files before removing PDF protection.

Furthermore, by unlocking PDF files, this tool allows users to copy PDF text and images without any trouble. If you're new to Softaken Unlock PDF Tool and want to try it out before investing your money, a free demo version is available. This version is identical to the licensed version but has some limitations on PDF unlocking.

Lastly, if you encounter any issues or have any questions about the tool, there's a 24/7 customer support team available to help you resolve your queries. Overall, Softaken Unlock PDF Tool is a highly effective tool that provides an easy way to unlock PDF files, regardless of their size or level of protection, making it an invaluable addition to any software library.
What's New
Version 1.0: N