Solid Capture is an all-in-one screen capture and image sharing software packed with easy-to-use features. Efficiently capture anything on your screen through an uncomplicated interface or hotkey, alongside editing, formatting, and sharing options. Simplify your capture and collaboration process with Solid Capture.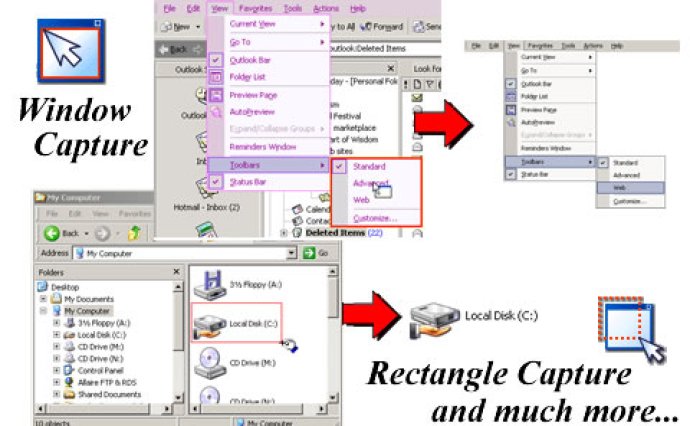 Solid Capture version 3 is a top-of-the-line software that provides everything you need to capture and collaborate with ease! With an intuitive interface and keyboard shortcuts, users can easily capture full screens on multiple monitors, windows (fixed or scrolling), or just selected screen areas. Its Rectangle Frame even allows users to specify dimensions and save multiple captures of identical sizes.

But that's not all! Solid Capture version 3 also includes many ways to edit, format, and share captures. Images can be saved in BMP, JPG, TIF, GIF, or PNG formats that can be opened in your favorite graphics program. Multiple captures can be previewed, captions added, and new PDFs can be created from captures.

Screen colors and text can also be captured thanks to Solid Capture's advanced features. Screen colors can be captured in the color value of your choice (including HTML, .NET, or RGB) or as a color swatch. Microsoft Office users can extract text from screen captures to use in Word or any other text editor.

But that's not all! Users can drag-and-drop images to and from Solid Capture, magnify a screen area up to 800%, use the Window Ruler to measure dimensions horizontally and vertically, and visualize screens in different resolutions using the screen resizing tool.

All in all, the Solid Capture toolkit provides all the essentials for working with on-screen images. It is perfect for technical writers, web designers, or any professional who needs to capture screens and graphics to integrate into documentation, presentations, or training tools. It is designed to work with any graphics editing program, such as Adobe Photoshop or Paint Shop Pro. If you're looking for a reliable and advanced software that makes screen capture and image sharing a breeze, then Solid Capture version 3 is definitely worth considering.
What's New
Version 3.0: N/A