SOS Click is a Microsoft Office add-in that lets you save your work in multiple locations with one click, preventing data loss. It allows saving to both local and remote destinations and features auto-save to mailbox, which saves multiple copies of your work to your mailbox.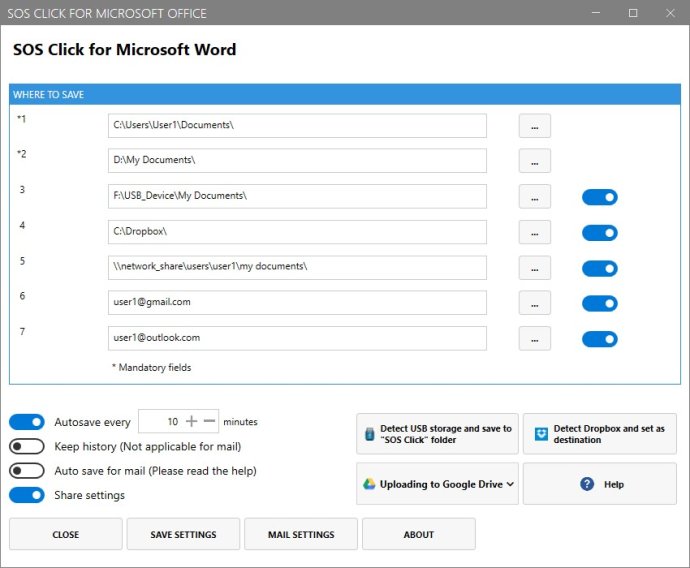 If you search for a reliable tool to save your work across various locations, SOS Click for Microsoft Office has just the thing you need! With this app, you can effortlessly save your Excel spreadsheets, Word documents, and PowerPoint presentations in multiple places with one single click. Its user-friendly interface will guide you through the process of saving your work in local and remote locations such as thumb drives, local folders, mapped network shares, e-mail addresses, and cloud services such as Dropbox, Google Drive, and Microsoft OneDrive.

One of the best things about this add-in is that you can be sure that your work will always be available in every circumstance. You no longer need to worry about technical issues like local hardware failure or loss of internet connection. With this app, your work is saved in various locations, ensuring it's always available to you.

Additionally, the software includes several auto-save functions such as saving automatically to an e-mail address of your choice. This fantastic feature ensures you never lose a single copy of your essential work.

In short, SOS Click for Microsoft Office is an excellent tool that helps you save your work with ease across multiple locations. With its user-friendly interface and useful features, you don't have to worry about ever losing your work again.
What's New
Version 1.0.0: This is a new release!