Splitty is a file splitting software that enables the division of large files into smaller parts. It simplifies data transfer through different storage devices like USB flash drives, DVDs, CDs, and internet connectivity.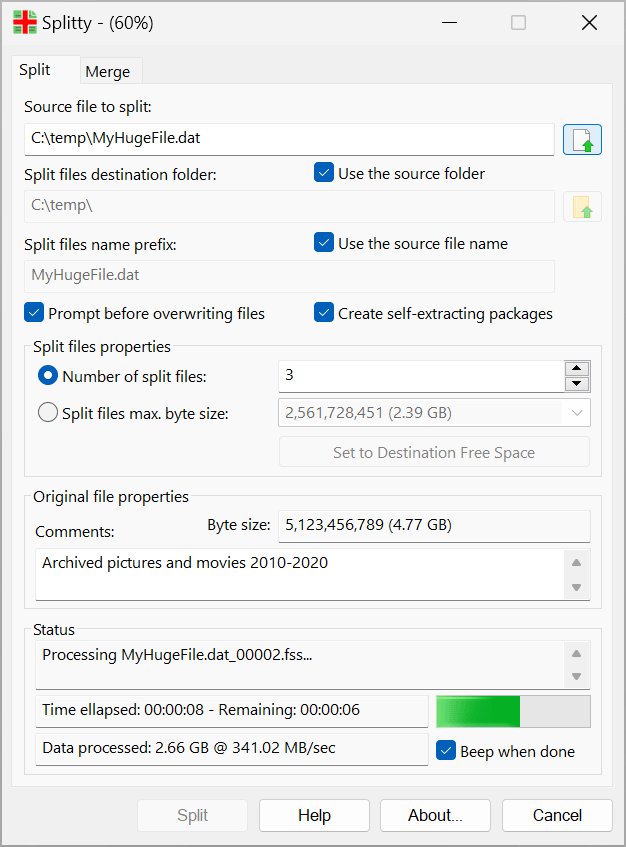 Splitty is a reliable software that solves the issues faced by regular users who transfer large files such as movies, music, presentations, and databases. These files often grow in size at an incredible rate, making it difficult to share, transfer, or store them. However, Splitty comes to the rescue by enabling the division of these large files into smaller, more manageable files that can be easily transferred. These smaller files can be stored on DVDs, CDs, USB flash drives, and other modest storage media.

But Splitty is not just any file splitter. It has been optimized for performance, security, and reliability. The software uses a checksum algorithm, ensuring data integrity and breaking the 4GB barrier, allowing you to split files of virtually any size. Additionally, Splitty includes a self-extracting feature to facilitate the distribution of split files and enable the recovery of the original file without needing Splitty.

Using Splitty is incredibly simple. All you need to do is drag the files you want to split from Explorer and drop them onto Splitty. After clicking on the split button, Splitty takes care of the rest. Within just a few minutes, you'll have smaller files that are easy to handle and transfer.

In summary, Splitty is an incredibly useful software that is a must-have for anyone regularly dealing with large files. Its installation is easy, the user interface is simple, and it offers a reliable and secure approach to splitting files into smaller, more manageable chunks. If you're in need of a reliable file splitter that offers performance, security, and reliability, Splitty is the software for you.
What's New
Version 5.23: Performed stability and performance improvements.
Version 5.20: Updated the user interface and help guide including better display scaling support.