No Spyware software offers a comprehensive solution to detect and eradicate all adware and spyware from your computer. Safeguard your privacy and security with this efficient tool.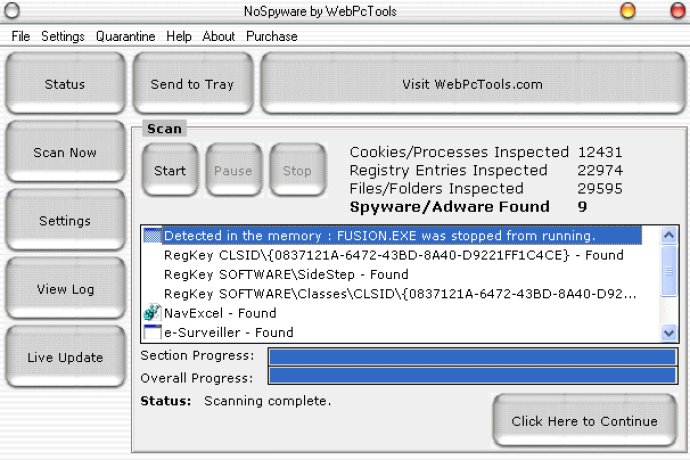 If you're looking for a software solution to deal with Spyware and Adware, also known as Malware, you might be interested in knowing more about the dangers of these malicious files. They can be made by publishers to spy on your browsing activity, take note of your purchases and send you unwanted pop-up ads. Not only that, but these files can also slow down your PC, cause it to crash, and potentially record your credit card numbers and other private information. The sad truth is that if you're a frequent Internet user, there's a possibility that your device is already infected with these files without you even realizing it.

Thankfully, with the right software, dealing with spyware and adware has become a lot easier. Our software is designed with a proactive approach, going beyond typical spyware removal software. It actively monitors which programs are running on your computer, keeping watch for Trojans, Web Bugs, Advertiser Software, Monitoring Software, and more. With our software in hand, you can rest assured that any attempts by spyware or adware programs to start will be stopped dead in their tracks.

With over 90% of all computers infected with spyware or adware, it's important to take precautions and protect your device. All it takes is simply browsing the Internet, reading an email, or downloading music or files to become infected with these unwanted programs. Don't let these malicious files ruin your devices or compromise your private information. Keep your device protected and stay on top of any potential threats with our software today.
What's New
Version 3.0: N/A