The IM Video Chat software provides instant LAN messaging with advanced video capabilities. It's perfect for companies, home networks, and student campuses, and offers private and secure messaging to improve communication. It's the ideal replacement for internet messengers.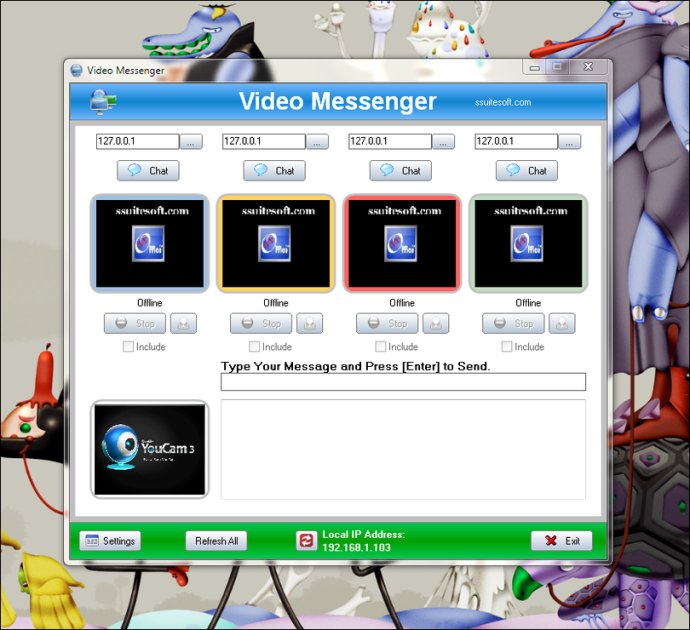 If you want to improve communication within your company or other network, consider SSuite IM Video Chat. This software is designed for instant messaging and video messaging within small, medium, and large local area networks (LAN). It's the ideal replacement for internet messengers in companies, student campuses, and home networks because it creates a private and secure messaging environment that can improve internal communication, productivity, and relationships.

The software boasts a smart, comfortable, and pleasant-looking user interface with advanced usability options. With a few clicks, you can join the IM network with other users and interact with up to four users at a time with four webcam views. You can send and receive short messages instantaneously, and no knowledge of computers is necessary to install and use this software.

Thanks to its standardized interface, the setup is immediate and doesn't require any server or hardware configuration. All you have to do is install the software on all the computers, and it's ready to use. Some of the key features of SSuite IM Video Chat include:

- Instant setup and run with no IP configuration
- Server-less setup with no need for hardware or extra setup
- Instant text messaging and video chat capabilities
- User-friendly look and feel for a comfortable work environment
- Interactive features including video, window flashing when called, and sound notification
- Ability to select your own ringtone with mp3, wav, and wma files supported
- No need for Java or DotNet, and it's Green Energy Software.

Overall, if you're looking for a way to improve communication within your business or network, SSuite IM Video Chat could be a valuable tool. Its user-friendly interface and interactive features make it easy to use and efficient for all users.
What's New
Version 2.6.1: Added dynamic image control for picture perfect video.
Version 2.8.1: Added dynamic image control for picture perfect video.