Start Hotspot Cloud WiFi Software is a cost-effective hospitality solution that manages user Internet access, sets limits, accepts payments, engages users, generates analytics, and more. It is a robust software designed for any hospitality deployment.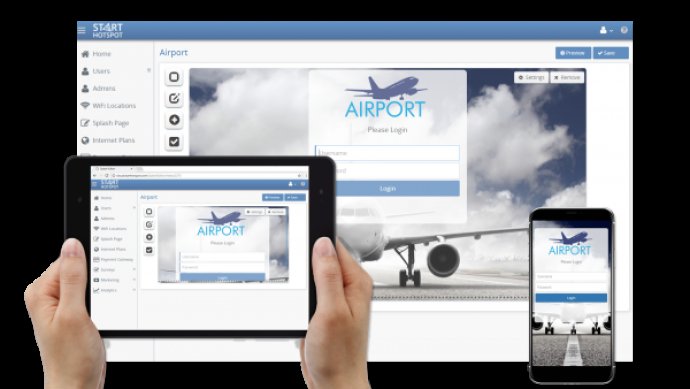 As someone in the hospitality industry, you know that reliable WiFi is crucial to guest satisfaction. In order to meet those expectations, you need a fast and consistent network that covers your entire facility. However, that's just the beginning of what's necessary to keep your customers happy. You'll also want to highlight your hotel's amenities, sell high-speed Internet access, and gather guest feedback in real-time to boost your online ratings on platforms like TripAdvisor and Booking.com.

That's where Start Hotspot Cloud WiFi Software comes in. This solution is designed specifically for hospitality settings, providing comprehensive control over guest Internet access, payment processing, marketing campaigns, and more. No matter what type of property you run, this platform can be customized to meet your needs and expectations.

With Start Hotspot Cloud WiFi, you can easily differentiate between various WiFi locations, each with its own brand identity and engagement strategy. You can set tiered Internet access plans that provide different download and upload speeds, data limits, session durations, and expiration dates. And you can create ads and surveys that appear when guests log onto your WiFi, turning your network into a powerful marketing tool.

In today's hotel industry, offering high-quality WiFi is more important than ever. With Start Hotspot Cloud WiFi Software, you can give your guests what they want while also gathering valuable insights and boosting your bottom line. Try it out today!
What's New
Version 2.2: New Payment Gateways: IPAY (M-PESA Flutterwave for Kenia), PesaMoni (Uganda, Kenya), Netcash (South Africa)
New Access Point controllers: Extreme Networks Campus controller, Cloudtrax controller, Huawei Access controller
The new feature to design a printable Voucher
Version 2.2.0: IPAY (M-PESA Flutterwave for Kenia), Stripe, Bpoint, AppsNmobile (Ghana), Complete ISP system, Centralized WiFi Management, Hotel WiFi, ISP system, Video ads, Hotel PMS Integration, White Label Branding, Social login, Cloud WiFi marketing, WiFi Billing, Email Marketing, ISP Radius, Radius Billing
Version 2.1.0: M-PESA Flutterwave for Kenia, Bpoint, AppsNmobile (Ghana), Complete ISP system, Centralized WiFi Management, Hotel WiFi, ISP system, Video ads, Hotel PMS Integration, White Label Branding, Social login, Cloud WiFi marketing, WiFi Billing, Email Marketing, ISP Radius, Radius Billing,
Version 2.1: M-PESA Flutterwave for Kenia, Bpoint, AppsNmobile (Ghana), Complete ISP system, Centralized WiFi Management, Hotel WiFi, ISP system, Video ads, Hotel PMS Integration, White Label Branding, Social login, Cloud WiFi marketing, WiFi Billing, Email Marketing, ISP Radius, Radius Billing,
Version 2.0.08.2019: Central WiFi Management, Video ads, Hotel PMS Integration, White Label Branding, Social login, WiFi Locations, Cloud WiFi marketing, Web Filtering, Internet Plans, Autologin, WiFi Billing, Accept Credit cards, Real Time Statistics
Version 2.0.0.0: Central WiFi Management, Video ads, Hotel PMS Integration, White Label Branding, Social login, WiFi Locations, Cloud WiFi marketing, Web Filtering, Internet Plans, Autologin, WiFi Billing, Accept Credit cards, Real Time Statistics
Version 2.0.0: Central WiFi Management, Video ads, Hotel PMS Integration, White Label Branding, Social login, WiFi Locations, Cloud WiFi marketing, Web Filtering, Internet Plans, Autologin, WiFi Billing, Accept Credit cards, Real Time Statistics
Version 2.0: Central WiFi Management, Video ads, Hotel PMS Integration, White Label Branding, Social login, WiFi Locations, Cloud WiFi marketing, Web Filtering, Internet Plans, Autologin, WiFi Billing, Accept Credit cards, Real Time Statistics