StarzSoft StarzMirror is a new software tool that allows users to mirror iPhone and Android devices to their Windows PC easily. Download, install, and follow the tool's instructions to mirror your mobile phone.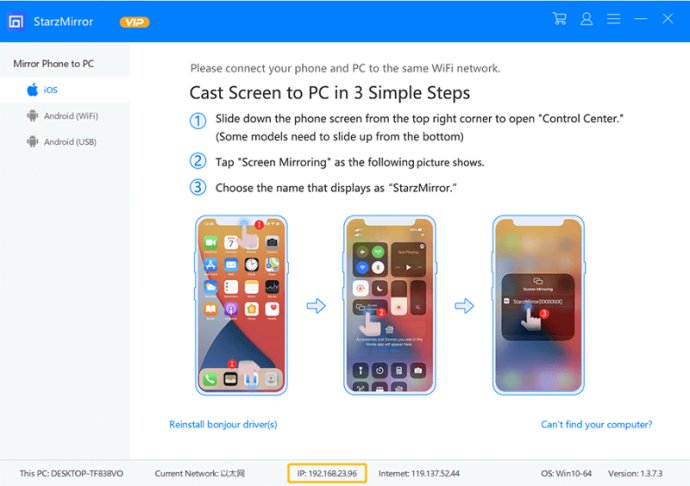 StarzSoft StarzMirror is an innovative software solution that has been developed to make it easy and quick for iPhone and Android users to mirror their phones to their PCs. The software comes with three modes, which allows it to support mirroring iOS and Android devices to your PC over Wi-Fi and through USB cables. What sets StarzMirror apart is its ability to record or screenshot your screen after mirroring it.

Furthermore, if you use the USB mode to mirror your Android phone to PC, you can even use your keyboard and mouse to control it. This is especially convenient for game users. With StarzMirror, you can customize your screen with features such as joystick control, the addition of other key positions for better control, aiming to shoot while playing games, and fire buttons to smoothly complete the gaming experience.

To use StarzMirror, you just need to follow a set of easy steps, which vary slightly for iOS and Android. For iOS, all you have to do is connect your iOS device and StarzMirror to the same Wi-Fi, go to the control center, and click on Screen Mirroring. From the pop-up window, select your StarzMirror. For Android users, simply connect your Android and StarzMirror to the same Wi-Fi, open the mobile app on your Android, and click on the Mirror button on it. Then, scan the QR code on the desktop software, and click Start now on your Android to complete the mirroring.

Finally, for Android users, you can manually follow the software instructions to enable developer mode and USB debugging. Connect your Android to the PC and select File Transfer. Afterward, go to the desktop software, click on start to connect, and then click the mirror button to start mirroring. With the help of StarzMirror, mirroring both iPhone and Android has never been easier, and the most important feature is that you can connect up to six different devices simultaneously.
What's New
Version 1.3.9.6: All is new, mirror iPhone/Android to PC tool