Stellar Data Recovery for Tape is a powerful DIY software that enables the recovery of all data types from old or corrupted tape media. With its advanced capabilities, the software can retrieve vast amounts of data archived on Linear Tape-Open (LTO) tapes.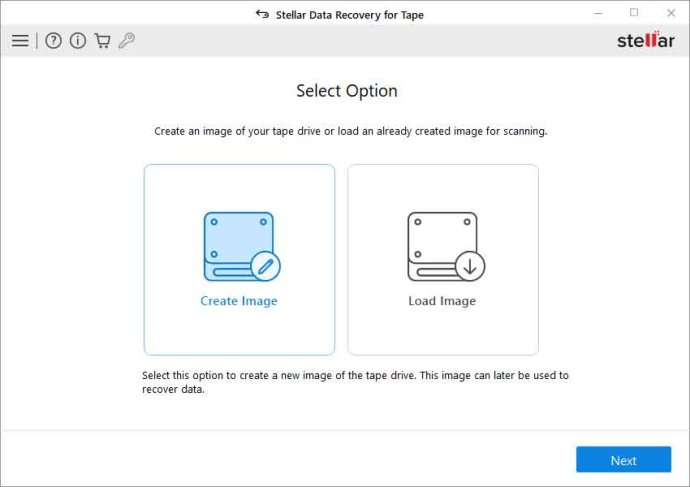 Stellar Data Recovery for Tape is a powerful software that is designed to recover inaccessible data from tape media. It is equipped with the latest features and is highly efficient in retrieving all types of data stored on LTO tapes. The software is capable of recovering data no matter the tape's native or compressed capacity.

The software creates an image of the tape drive to provide secure recovery, which ensures that it does not affect the drive in any way. This option also allows for a preview of recoverable data in tabular form, enabling easy data segregation and specific data recovery.

You can recover compressed data on the tape drive while maintaining 100% data integrity and save it in a location of your choice on your computer or any other storage media like external HDD, SSD, SD Card, USB drive, etc. The original date and time stamp of the data stored on the tape drive remain intact without any change.

The recovery algorithms of the software are capable of recovering voluminous data stored on a tape drive with ease. Also, the software provides the option to select the desired number of blocks for read/write operations, which provides the liberty to speed up the recovery process. You can also choose the 'Auto' block size and let the software choose the most suitable block size for your tape drive.

Stellar Data Recovery for Tape software is fully compatible with tape drives of all makes and models from IBM, HP, Quantum, Oracle, etc. The software has a simplified user interface which makes it incredibly user-friendly, enabling easy movement of data from tape to disk storage.

The software is compatible with Windows 11 and previous versions. To retrieve data from the tape drive, the software requires creating tape image, load image & scan, and preview & save, which is a straightforward process. It is a must-have for individuals and organizations using tape storage media to recover and read backup or archive data in tapes. Stellar Data Recovery for Tape is a reliable and failsafe software that accurately recovers data from corrupt, damaged or old tape drives.
What's New
Version 3.1.0.0: Support for tar & cpio parser
Recover all types of data from tape media
Allows data preview before saving on computer
Recovers all kinds of data stored on LTO tapes
Recovers tape data with original date and timestamp
Version 3.0.0.0: Creates an image dump of all LTO tapes.
Scans and recovers data from BKF, TAR, CPIO & TSM archive images.
Effectively works with corrupt tape media.
Allows data preview before saving.
Runs on Windows 11, 10, 8.1, 8, and 7.
Compatible with LTO 1, LTO 2, LTO 3, LTO 4, and above.