Stellar Photo Recovery Software is a self-service program that retrieves deleted, damaged, or formatted media files from various storage devices, including HDDs, SSDs, USB drives, SD cards, and 4K hard drives. It can restore photos, videos, and audio files with ease.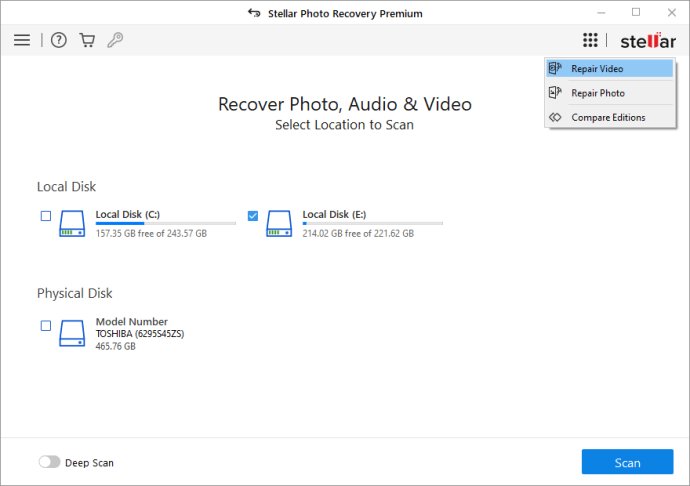 Stellar Photo Recovery is an exceptional software tool designed for complex data loss situations When it comes to recovering media files such as videos, photos and audio items. The software has an excellent success rate and is equipped with an array of features that make it a strong choice for large-capacity storage drives up to 4 TB.

Stellar Photo Recovery has the ability to recover formatted, corrupt, inaccessible raw and bitLocker encrypted HDD, SSD, 4K Hard Drives, USB Drives, SD Cards and other similar devices. The software is an excellent platform for recovering camera RAW files along with raster and vector images. Stellar Photo Recovery facilitates recovery from all popular camera brands such as Sony, Canon, Samsung and Nikon plus drones such as Parrot and DJI.

The interface is highly navigable, and the scanning process is customizable which caters for the diversity of the recovered media files. Stellar Photo Recovery also offers flexibility when saving recovered media, allowing users to save them in a preferred location. The software is highly user-friendly, and it can effectively recover all file formats known and unknown.

Stellar Photo Recovery also ensures timely restoration of media files by offering high-speed scanning that can restores thousands of photos, videos, and music files in just a few minutes. The software restores photos and videos in their original condition with date/time stamps, resolution, camera name and model if available, and the original quality of the recovered photos and videos is maintained.

Stellar Photo Recovery also features other distinct features such as preview of found media files, Deep Scan (in case the initial quick scan doesn't deliver the expected outcome), SMART information of drives, and the option to Save Scan and Resume Recovery later. The software even provides users with the ability to protect their photos and videos stored on drives that have bad sectors by creating an image of the storage device and save it separately for future recovery activities.

Stellar Photo Recovery also comes with video tutorials and user guides for ease-of-use, while its 24X5 responsive customer support adds to its overall appeal. Plus, the software is perfectly safe and is 100% secure to download. Users looking for a strong media file recovery tool can take advantage of the comprehensive features of Stellar Photo Recovery by downloading its free demo version which allows users to test its data recovery capabilities before eventually purchasing the software.
What's New
Version 11.2.0.0: Support of Apple M1 Chip machine.
Support of T2 Security Chip machine.