Stellar Toolkit for File Repair v2.1 provides enhanced features for effortless repair and retrieval of Microsoft Office documents and PDF files. It enables repairing of single or multiple files with ease.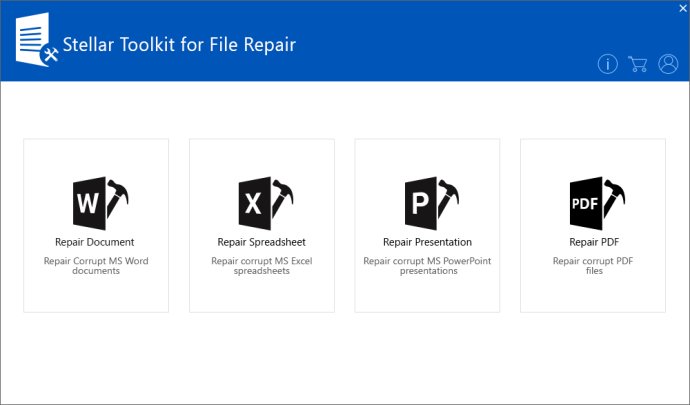 Stellar Advanced File Repair Tool for Windows is an exceptional software that can effortlessly fix corrupt Microsoft Word, Microsoft Excel, Microsoft PowerPoint, and PDF files and documents. By using this software, you can recover data from these files without any modification. The tool has a simple and user-friendly interface that consists of specific modules for repairing Word Documents, Excel Spreadsheets, PowerPoint Presentations, and PDF files.

The Word Repair module supports basic recovery of .doc and .docx files, while advance or raw recovery of .doc files can be achieved as well. With the Excel file recovery module, you can fix .xls and .xlsx files and restore data to a new blank Excel file. The PowerPoint file repair module can repair .ppt, .pptx and .pptm files, and can restore all objects. There are also detailed instructions to guide users through the repair process without requiring any technical support. The corrupt files can be fixed in just three simple steps- Select, Scan/Repair, and Save.

The Stellar Toolkit for File Repair software allows repairing single as well as multiple files simultaneously. Additionally, it provides a preview option to verify if the final results match the original data before saving them. You can even choose to save the repaired files at a desirable location. Before purchasing the software, you can download the free demo version to check its superior data repair capabilities.

In conclusion, the Stellar Advanced File Repair Tool is an excellent file restoration software that enables users to repair corrupt files with minimal effort. The guide is available for those interested in exploring the full range of the software's features and repair processes.
What's New
Version 2.1.0.0: Repairs corrupt MS Excel files (.xls/.xlsx, .xltm, .xltx, and .xlsm) and restore data to a new blank Excel file
Repairs corrupt MS PowerPoint files (.ppt/.pptx/.pptm) and restores all objects