System Monitor is a powerful tool that allows users to view their CPU core usage and RAM usage, including virtual memory. It supports up to 40 cores and displays usage history and temperatures for each core. It also functions on multi-CPU systems.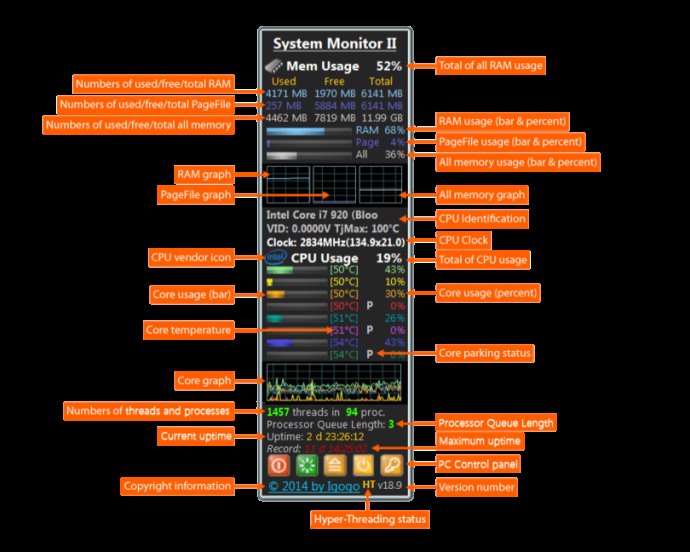 If you're looking for a comprehensive system monitoring tool, System Monitor II is a Windows gadget that can help you keep tabs on your system's health in real time. This gadget displays all core CPU usage, supporting up to 40 cores/threads, and RAM usage, including physical, page file, and full, which also includes virtual.

In addition to showing current usage, the gadget displays all core and RAM usage history and cores temperatures (CoreTemp must be running on the background) to help you make informed decisions about resource allocation. The data are recorded and written to a log file.

This tool is designed to support multi-CPU systems and combines all the essential hardware information into one highly configurable interface. Additionally, System Monitor II also allows you to run the Task Manager or Resource Monitor by double-clicking on it, enabling you to terminate any applications that might be slowing down your computer.

The gadget is compatible with both 32-bit and 64-bit editions of Windows Vista, Windows 7 and Windows Server 2008. Overall, System Monitor II proves to be a reliable, feature-rich, and user-friendly tool for tracking system health and resource usage in real time.
What's New
Version 30.5: N/A
Version 30.2: N/A
Version 30.1: N/A
Version 30.0: N/A
Version 29.9: N/A
Version 29.8: N/A
Version 29.7: N/A
Version 29.6: N/A
Version 29.5: N/A
Version 29.4: N/A