SysTools PDF Unlocker for Mac is a PDF restriction remover that unlocks owner and user level security, enabling unrestricted copying, printing, editing, and text extraction. With the ability to bulk-erase multiple security levels, this software offers flexibility for better PDF file management on Mac OS X.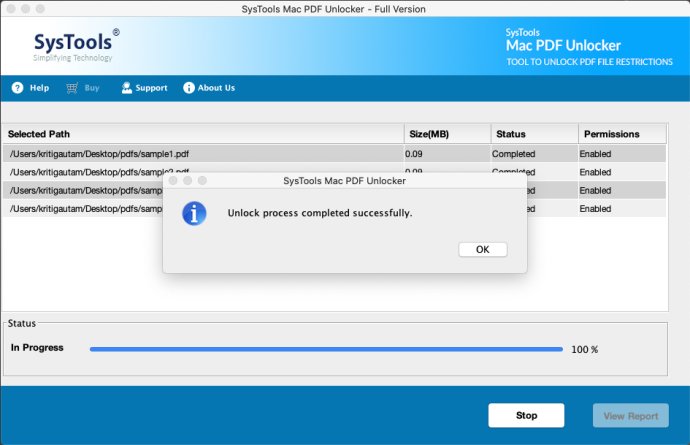 The Mac PDF Unlocker utility is an impressive software that enables users to remove password security from their PDF files. With ease, users can eliminate eight types of PDF restrictions, including copy, print, and document assembly, as well as create template pages. The added feature of adding files or folders allows users to remove security from multiple PDF documents at once.

The tool is also equipped to bulk unlock AES 128 and 192-bit encrypted PDF files. What sets this utility apart is that it does not require any external utility to remove security from PDF files on Mac operating systems. The Mac PDF Unlocker is versatile and can remove known password security, allowing users to enter the password for protected PDF files at the initial level.

Once the password is entered, the software creates an unlocked PDF document that is free from any security and restrictions. This enables users to use the unsecured PDF file for commenting, signing, or any other purpose. Notably, the Mac PDF Unlocker supports all versions of Mac Operating Systems, and users can easily save the resultant unlocked PDF file at any desired location.

Ease of use is a significant factor of this software, even for non-technical users. The formatting of the PDF file remains unchanged, and the Mac PDF Unlocker is capable of removing complex PDF passwords from multiple PDF files. It generates a report containing all the necessary details, from the selected path, destination path, unlock status, total count, fail count, and success count of PDF documents after unlocking a PDF file.

Overall, the Mac PDF Unlocker utility is an outstanding and powerful tool that offers various features for easily removing security and restrictions from numerous PDF files. Its reliability and ease of use make it an excellent choice for users looking for a solution to unlock their password-protected PDF files with minimal effort.
What's New
Version 4.1: N/A
Version 3.0: N/A