SysTools Migrator is a Windows software for direct migration of mailbox data between cloud email providers. It ensures fast and secure migration of all mailboxes, making it the best cloud to cloud migration software available.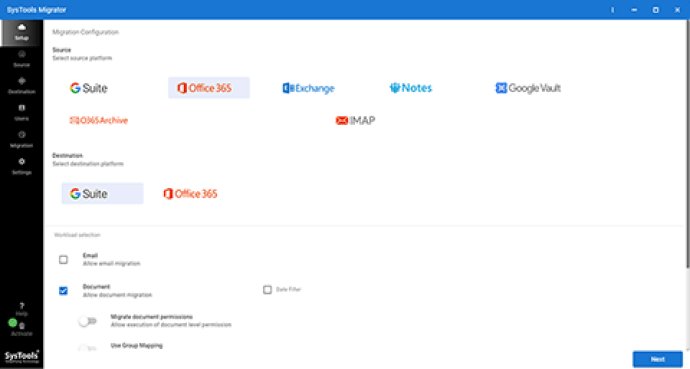 SysTools Migrator is the leading cloud to cloud migration software for seamlessly switching between email platforms and moving your data from one cloud platform to another. This highly recommended software is trusted by many tech experts and administrators to securely transfer your data.

With an advanced set of features, such as bulk migration and support for multiple source and destination platforms, as well as an inbuilt dashboard for real-time progress tracking, SysTools Migrator makes the entire migration process highly efficient.

Not only that, but this cloud-to-cloud migration tool also offers the option of concurrent migration, enabling users to migrate up to 200 mailboxes simultaneously. This allows for the quick migration of hundreds or even thousands of user mailboxes.

The source platforms supported by SysTools Migrator include G Suite / Google Workspace, Office 365 / Microsoft 365, Microsoft Exchange, Office 365 archive and Google Vault. The destination platforms supported by the tool include G Suite / Google Workspace, Office 365 / Microsoft 365, and Office 365 Archive.

Even if you only need to transfer data from Google Drive to OneDrive or vice versa, SysTools Migrator has got you covered. Additionally, the tool's user interface is incredibly simple and easy to use, with a Help button on each screen explaining the working of the tool on every step of the way.

This handy option ensures that you won't get stuck at any point during the migration process, making SysTools Migrator the ideal choice for anyone looking to transfer data between cloud platforms with ease.
What's New
Version 5.5: N/A