SysTools PDF Bates Numberer is a powerful software that helps in organizing PDF pages using unique bates numbers or case codes. It allows users to add page numbering, prefixes, and suffixes to PDF documents using the bates stamp feature.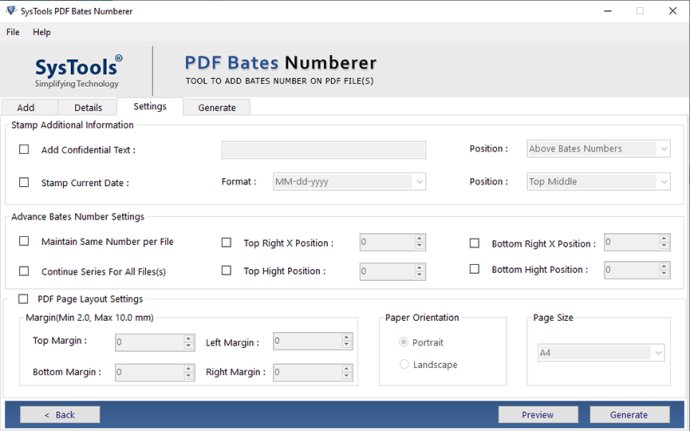 SysTools PDF Bates Numberer is an efficient software program that simplifies the process of adding page numbers to PDF documents. It provides users with the ability to organize their PDF files effectively, facilitating smoother future operations. This software tool is especially beneficial for lawyers, legal advisors, and organizations seeking quick and effortless page arrangement.

With SysTools PDF Bates Numberer, users can incorporate both prefix and suffix text alongside the Bates numbers, further enhancing the organization of their documents. Additionally, the software allows users to include additional or confidential information in the Bates stamp, with the flexibility to align it correctly and modify font size, style, and color. Furthermore, users have the freedom to set the alignment of the date, page number, and more according to their preferences. Remarkably, the software also permits the addition of Bates stamps to restricted PDFs without requiring a permission password.

The SysTools PDF Bates Numberer utility offers a user-friendly interface, ensuring that individuals of all skill levels can effortlessly stamp their PDF files or pages. It provides the user with various alignment options for Bates numbers, including top, bottom, left, and right alignments. Moreover, users can conveniently print documents that have been stamped directly from the software, making it highly convenient to manage printed versions of PDF files in both portrait and landscape modes.

This PDF Bates Numbering Software is compatible with all Windows OS versions, including Win 10, 8.1, 8, and 7, guaranteeing widespread accessibility. Additionally, the software generates a concise summary report that contains comprehensive details about the selected options during the Bates numbering process, ensuring efficient documentation of the operations performed.

In conclusion, SysTools PDF Bates Numberer is an exceptional Windows-based software program for PDF Page Numbering. It offers users the convenience of numbering multiple legal documents simultaneously, streamlining workflow efficiency. To explore the capabilities of the PDF Bates Stamp tool in greater detail, interested users can easily download the demo version of the software online and experience its features firsthand.
What's New
Version 5.0: N/A
Version 4.0: N/A