SysTools Thunderbird Import Wizard is a software that enables users to import multiple MBOX files and EML files with their attachments into Mozilla Thunderbird.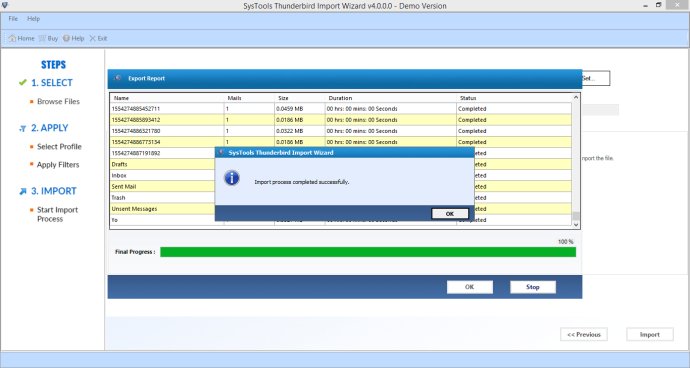 SysTools Thunderbird Import Wizard is a powerful software for importing multiple MBOX files to your Mozilla Thunderbird account. Not only that, but it can also import EML and maildir files, giving you more flexibility in managing your emails.

This utility offers two options for adding MBOX, EML, and maildir files: Add File and Add Folder. The Add File option is perfect for importing a single file, while the Add Folder option can easily import a whole folder containing multiple files.

With the help of this software, you can migrate MBOX files to any email account that is configured in your Mozilla Thunderbird, making it easy to switch accounts as needed. It also maintains the original format of the files, so there's no need to worry about losing important information during the import process.

You can import an unlimited number of files, and the software allows you to view and read email headers, meta data, and other important information. Additionally, an inbuilt Date Filter Option makes it easy to filter your data based on a specific date range.

One of the best things about SysTools Thunderbird Import Wizard is its ability to maintain the folder structure intact during and after importing files. Attachments and inline images are also retained without any alteration.

It's important to note that to use this software, you must have Mozilla Thunderbird application installed and configured on your local system.

Overall, SysTools Thunderbird Import Wizard is an excellent tool for managing your emails and importing files to your Mozilla Thunderbird account.
What's New
Version 4.0: N/A