TE is a powerful spreadsheet software with an elegant and intuitive interface for Mac. It offers formulae, charts, and styling options for cells, as well as comprehensive import and export capabilities.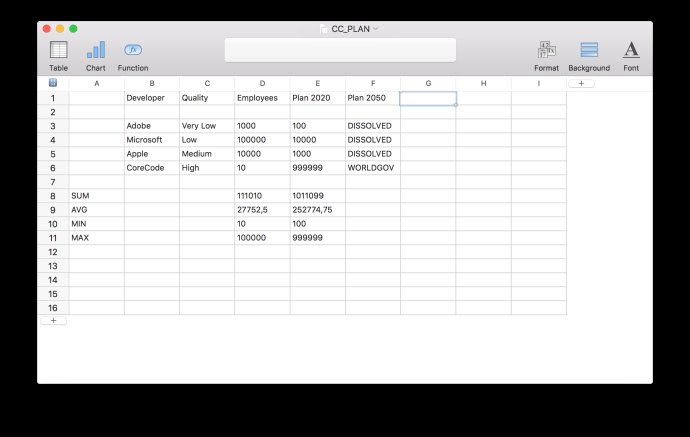 TableEdit is an exceptional spreadsheet application designed exclusively for Mac OS. It comes equipped with a simple and intuitive user interface and a myriad of features such as charts, formulas, and comprehensive styling options for cells.

The software has been thoughtfully designed to be fast, convenient, and easy for users to navigate. The toolbar located on the interface provides easy access to frequently used features providing a seamless and smooth experience. Additionally, navigating and selecting cells can be done easily using keyboard shortcuts and modifier keys.

TableEdit offers extensive cell styling options and allows users to easily select background colors, cell border options, color, font, and alignment. The software comes with numerous cell formatting options that can be customized to suit a user's preferences. You can control the display of numbers using options like number of digits, scientific or currency display, and separator. Users have immense control over how data is displayed in the table.

The software has a robust formula and function system compatible with Excel, having been tested on over a million formulae, including complex ones. TableEdit supports more than a hundred of Excel's most-used functions.

TableEdit offers various charts and graphs such as pie-charts, line-graphs, and bar-charts that users can customize according to their preferences by defining colors, styles, and various options. Users can easily import CSV and Excel files through drag and drop or use the Import-panel to select specific options like the separator or encoding.

Exporting data to Excel is just a mouse click away with options like classic or XML. Finally, if you're looking for a simple, clean, and elegant spreadsheet application for your Mac, TableEdit is a great choice.
What's New
Version 1.2.8: Fix for expired excel import/export support