Tansee iPhone Transfer SMS software backs up old SMS from iPhone/iPhone 3G to PC before the phone stops receiving new ones. The software exports SMS in either .txt or .ants file format for easy viewing.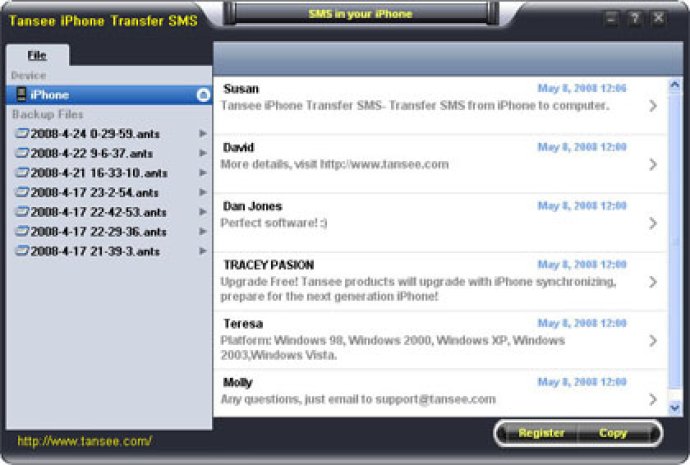 Tansee iPhone Transfer SMS is a must-have software for all iPhone and iPhone 3G users. With this software, you can backup all your SMS to your computer before your device rejects new messages. It also lets you view and manage all your old SMSs on your PC.

This software allows you to view SMSs in both Text file format (.txt file) or ANTS file format (.ants file). Moreover, you can password protect your ANTS file to keep your text messages secure.

Until now, iPhone and iPhone 3G users couldn't backup their SMS anywhere. But with Tansee iPhone Transfer SMS, you can transfer all your SMSs to your computer even when the SMS box is full. You don't have to delete any of your messages to prevent your device from rejecting new SMSs.

This software provides flexibility to its users. You can select to transfer SMSs from all your contacts or from a single contact. Additionally, you can choose to transfer your messages to either a TXT file or an ANTS file. By selecting the ANTS file option, you can password protect your file to ensure the privacy of your text messages.

In summary, Tansee iPhone Transfer SMS is an essential software that provides a simple and effective way to backup text messages and keep them secure on your PC.
What's New
Version 1.0.0.0: N/A