Taylor Calculator Real 27 is a useful software for teachers and students that calculates partial sums of Taylor series of common functions (including hyperbolic) with ease.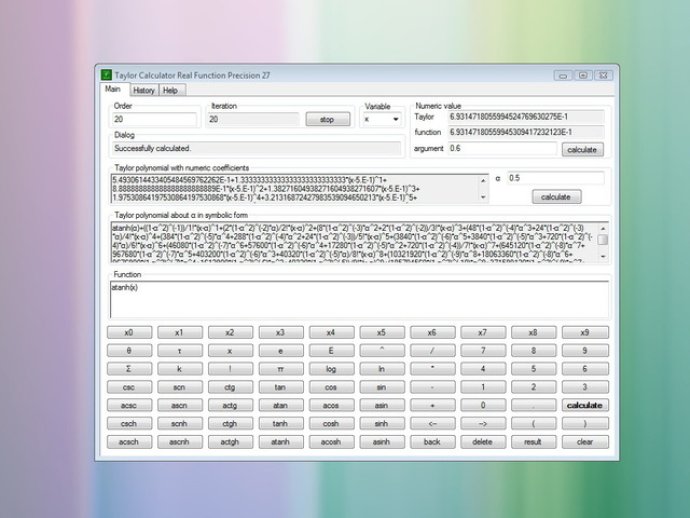 I recently tried out the Taylor Calculator Real 27 and was thoroughly impressed. This handy software is fast, reliable, and precise, making it the perfect tool for anyone who needs to find symbolic and numerical Taylor polynomials of standard functions.

One notable feature of this calculator is its programming language - it's built in C#, meaning you can expect high performance and efficiency. All calculations are conducted in double floating data type, ensuring mathematical accuracy.

The software is proficient in calculating partial sums of Taylor series of standard functions, including hyperbolic functions. Moreover, you can store your calculation history into a text file or print it for reference later. The precision for numerical coefficients and values goes as high as 27-36 digits!

The Taylor Calculator Real 27 also includes a range of trigonometric, exponential, logarithmic, hyperbolic, and inverse functions, allowing you to calculate the Taylor polynomials of even more complex functions. Plus, the symbolic formulas generated by this software can be used seamlessly with the Graphing Calculator 2D Polar, Graphing Calculator 2D Parametric, and Graphing Calculator 2D Numeric for drawing graphs.

Finally, this software allows you to use symbolic parameters, further enhancing its flexibility and versatility. All in all, I highly recommend the Taylor Calculator Real 27 to anyone looking for reliable software for their mathematical calculations.
What's New
Version 1.0.1.1: version checker is added
Version 1.0.0.7: Performance improvement
Version 1.0.0.6: Performance improvement
Version 1.0.0.5: Corrections
Version 1.0.0.4: Corrections
Version 1.0.0.3: Corrections
Version 1.0.0.0: N/A