TeeChart ActiveX provides a vast choice of 2D and 3D graph styles, various mathematical and statistical functions, and multiple axes for Windows and web applications. It also offers 14 toolbox components for easy integration to boost charting capabilities.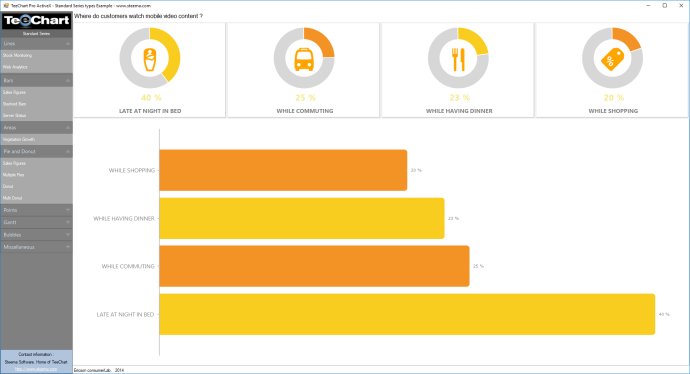 TeeChart ActiveX is a highly versatile software that offers an extensive range of chart types in 2D and 3D to help visualize data in a more dynamic and interactive way. With over 60 chart types to choose from, users can select from popular ones like Line, Bar, Area, and Pie charts, as well as more niche field-specific charts like Candle OHLC, Point and Figure, Volume, High-Low, BoxPlot and more.

What sets TeeChart ActiveX apart is its vast selection of financial and statistical indicators that provide users with the ability to perform calculations from basic mean, mode, and median functions to more advanced financial and statistical functions. It supports popular development platforms such as Visual Studio .Net, Visual Basic, Delphi, Visual Studio 6, IIS / ASP, making it easy to integrate into your development environment.

In addition to its robust features, TeeChart ActiveX also comes with a renewable one-year subscription service that grants customers access to free updates and technical support. With its wide range of chart types, financial and statistical indicators, and developer-friendly platform support, TeeChart ActiveX is an excellent choice for anyone looking for a comprehensive charting software.
What's New
Version 2023: Fixes related to the TeeChart202364.cab generation. inf file was not correctly used for 64bits version.