A comprehensive and lightweight Grid control software developed for RAD Studio, Delphi, and C++Builder. The software offers an easy and efficient way to manage and display data.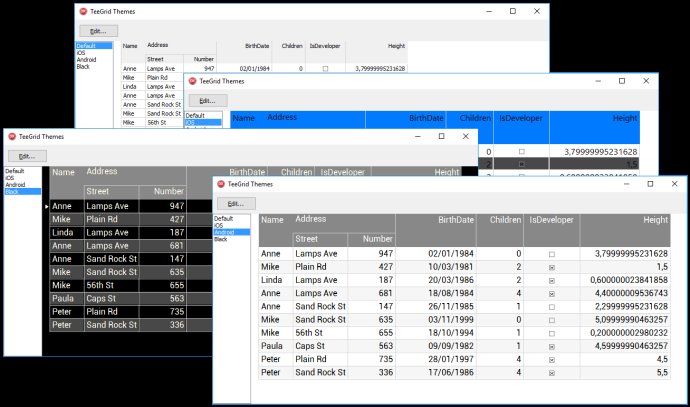 The teeGrid is an exceptional software tool that is perfect for users who are looking for a fully-featured and lightweight grid control for RAD Studio, Delphi, and C++ Builder. This framework supports VCL and Firemonkey and even Lazarus FreePascal. With the teeGrid, managing information, connecting to various data sources, and displaying data on a grid is made easy and quick.

This software tool boasts many features that make work easier for its users. Users are able to sort and group data, view data in a master-detail format, select data using drag-and-drop functionality, and scroll through grids with ease. Additionally, the Grid offers a range of features to help manage rows and columns, such as locked columns, resizable columns, and column dragging.

Furthermore, the teeGrid is available free of charge for non-commercial use. For users who require a commercial license, the software can be purchased with 100% source code. Renewed through a one-year subscription service that includes free updates and technical support, the teeGrid offers exceptional value for the cost.

Overall, whether you're a casual user or a professional developer in need of a sample application, the teeGrid is definitely worth checking out.
What's New
Version 1.12: Supports RAD Studio 11 Alexandria Update 2.
Adds modifications & bugfixes.
Version 1.11: TeeGrid adds full support for RAD Studio 11 Alexandria.
Adds modifications & bugfixes.