This software is a Windows-based server designed to receive fax messages through the T.38 SIP protocol. It enables users to receive and process fax messages directly from their computer, increasing efficiency and reducing the need for physical fax machines.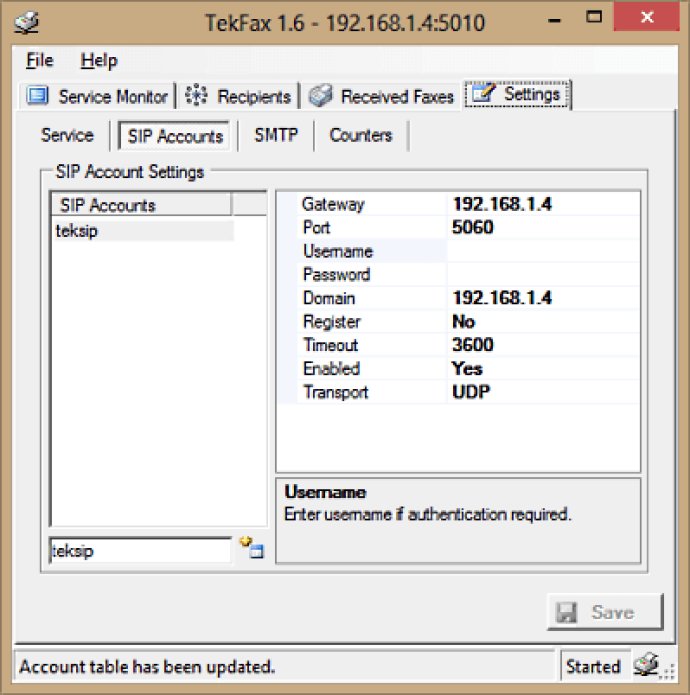 TekFax is a reliable and efficient SIP T.38 Fax Receiver Server that is compatible with Microsoft Windows operating systems, including Vista, Windows 7/8/10, 2008-2019 Server. The software has been thoroughly tested to ensure optimal performance on these platforms, delivering a seamless experience for users.

One of the standout features of TekFax is its compliance with RFC 3261. This means that it adheres to high industry standards, ensuring that it is reliable, secure and interoperable with other SIP devices and network elements.

Additionally, TekFax supports ITU T.38 protocol and UPnP for NAT traversal, enabling it to efficiently transmit and receive faxes. Users can also select the IP address to be listened to and configure the default SIP proxy for outbound calls.

Another useful feature of TekFax is its ability to send incoming faxes to configured recipients via email in TIFF format, making it easy to access and share important documents. The software also logs session details and errors into a log file, providing users with the information they need to troubleshoot issues and optimize performance.

Finally, TekFax runs as a Windows service and comes with a user-friendly Windows Management GUI that makes it easy to configure and manage. Overall, TekFax is a powerful and reliable solution for businesses and organizations that require a robust fax receiver server for their Windows-based environments.
What's New
Version 1.9.3: Improved RTP stack