SIP IVR System for Windows is an interactive voice response software that enables users to communicate with a computer system through dialing or voice commands. It provides automated customer service, call routing, and telephone surveys, enhancing call center efficiency. The software is ideal for Windows-based industries with a high volume of incoming calls.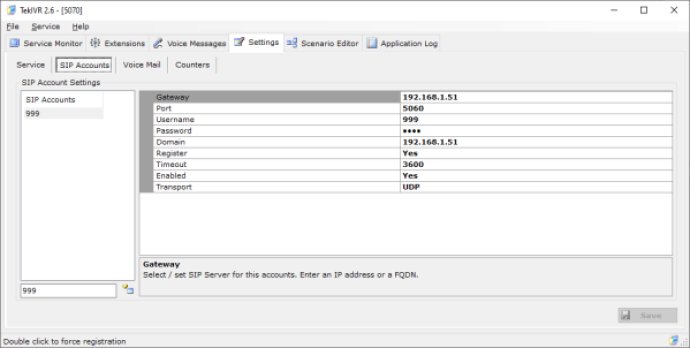 Having used TekIVR for a while now, I must say it's a phenomenal tool that stands out in the market. TekIVR is an impressive SIP-based (Based on RFC 3261) Interactive Voice System (IVR) that can be run on Windows. I have tested it on various versions of Windows, including Vista, Windows 7/8/10, 2008-2019 Server, and it has always worked seamlessly.

One of the countless features that impressed me most about TekIVR is its flexibility. With this tool, I can customize my IVR scenario by selecting my preferred audio files. Additionally, TekIVR can read out texts using the Text-to-Speech (TTS) engine, making it more user-friendly.

Another excellent feature is the voice recognition feature via Google SAPI, which makes it easy to interact with other callers. TekIVR also supports ITU G.711 A-Mu law codecs and UPnP for NAT traversal, giving users more flexibility in their communications.

In terms of ease of use, TekIVR is very user-friendly. With this software, I can select the SIP protocol port and a default SIP proxy for outgoing calls. TekIVR also has a voice mail feature that allows me to record and send incoming calls for configured SIP endpoints via email. I can dial into TekIVR and listen to recorded messages in my mailbox, and it also supports Voice Mail Indication (RFC 3842).

TekIVR also allows me to log session details and errors into a log file, making it easier to troubleshoot issues. Lastly, TekIVR can record audio from the caller party and play out the same to the called party before transferring the call. This feature is useful in identifying callers by their own voice to called parties.

Overall, I am delighted with TekIVR and would highly recommend it to anyone in search of an IVR system that is user-friendly, flexible, and reliable.
What's New
Version 2.6.7: Send action enables you to send digits to the called party (Version 2.6.7). Exit action enables you to jump to an existing scenario. You can choose a scenario to be jumped by setting "Jump to Scenario" option (Version 2.5.7). MRCP v2 proxy for SAPI and Google Speech services. MRCP v2 Proxy fun