Tembo is file search software designed to simplify and improve the process of finding documents, photos, and music. It offers an effective search function that makes it easier for users to locate their desired files quickly.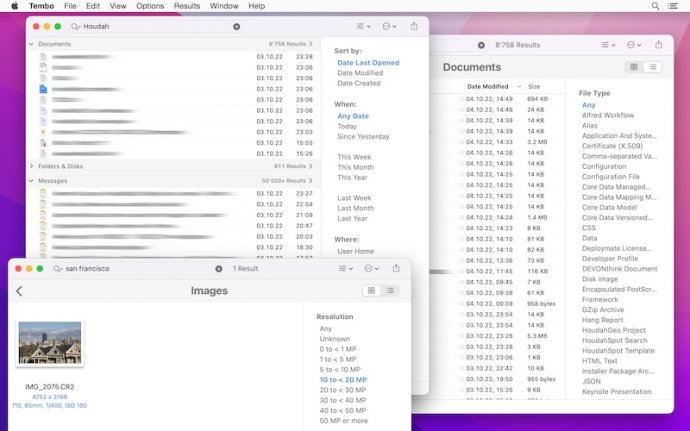 Tembo is an excellent file search software that helps you easily and effectively find files, folders, music, photos, and more. With its intuitive interface, you can quickly find the files you're looking for without wasting time.

One of the standout features is that Tembo shows search results that are organized and grouped by file type. This means that you can have an overview of different groups of files and easily locate the ones you need. Moreover, the first ten matches for each group are displayed upfront, which helps to narrow down the search results further.

The software also allows you to drill down into a specific group, which reveals up to 10,000 results along with context-sensitive filters. These filters are designed to help narrow down the search results even further. For example, 'Messages' group has filters on subject, sender and recipient, while 'Images' group has filters for resolution and file type.

Tembo stands out from other similar software such as Spotlight and Finder. It saves you time and is quicker in finding the files you need. Additionally, the user interface is easy to understand, has grouped search results, and up to 10,000 results in each group. The context-sensitive filters are also helpful in narrowing down search results.

There are many filters available in Tembo including bookmarks, documents, fonts, images, messages, movies, music, PDF documents, and source code. With these filters, you can easily locate your files based on criteria such as artist, file type, author, and URL domain, to mention a few.

Tembo is powered by Spotlight's index and engine, meaning it can find any file indexed by Spotlight. This includes files in the Library folders but excludes many low-level system files. In summary, Tembo is a powerful search tool that is easy-to-use and highly effective in finding files on your Mac.
What's New
Version 3.1.1: * Updated for macOS 14 Sonoma
* Caveat: Apple Mail on macOS 14 no longer accepts plug-ins. Tembo will not be able to search your Apple Mail messages
* Various bug fixes. Thank you for reporting bugs
Version 3.0.1: - Fresh New Look
- Search Apple Mail Messages
- Favorite Tags
- Enhanced Grid View
- Native to Apple Silicon