Transform your PC into a virtual tennis scoreboard with our software. Keep score during tennis matches in gyms, courts, or multipurpose facilities using your existing display. Download now for hassle-free scorekeeping.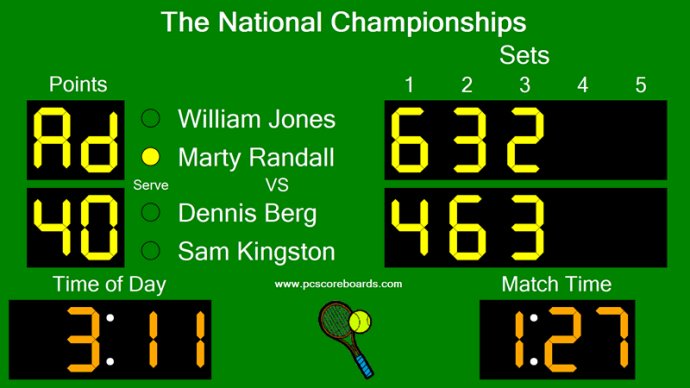 The Tennis Scoreboard software is a great choice for those who want to turn their PC into a virtual tennis scoreboard, using the display and computer they already have. This software download is perfect for those who want to keep score on different tennis courts, in gyms, or multipurpose facilities.

The software is easy to use, thanks to its simple mouse and keyboard interface, which lets you control all the functions of the computer scoreboard with ease. Tennis Scoreboard Pro is an affordable and portable alternative to expensive physical scoreboards, as it offers flexibility to switch between different sports using the same hardware, which fixed scoreboards can't do.

Moreover, Tennis Scoreboard Pro is shareware, meaning you can try out the scoreboard download for free before deciding to purchase it. The features that come with Tennis Scoreboard Pro include an easily accessible full-screen mode, a secondary control screen, a customizable scoreboard color, customizable player names for easy identification, high visibility LED digits, and a clean and straightforward design that allows easy reading by spectators.

The software also includes team points, games won for five sets, player names, serving indicators, a match time clock, time of day display, scoreboard title, and scoreboard logo. Key options make controlling the scoreboard quick and easy, and the software is portable, allowing you to quickly and easily move the registration between computers.

Other options that come with Tennis Scoreboard Pro let you customize the colors to your team's colors, customize the text that spectators see on the scoreboard, change the buzzer, horn, end of match, and end of timeout sounds to use your audio files or translate the text into your language, among others. For more information on this software, visit www.pcscoreboards.com.
What's New
Version 2.0.5: General technical fixes.