4DDiG Windows Data Recovery by Tenorshare is reliable software that enables recovery of various file types like word, excel, rar, jpg, etc., from hard drives, pen drives, memory cards and more.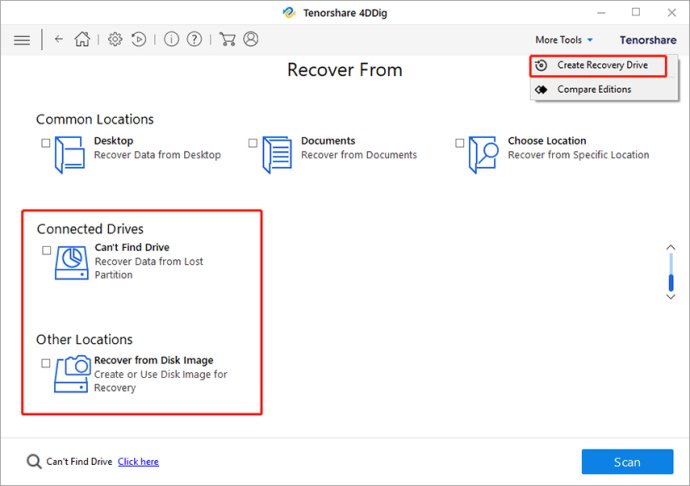 Tenorshare 4DDiG Windows Data Recovery is the ultimate solution for users seeking to recover lost data from their Windows 10/8/7 systems. Whether they have mistakenly deleted important files like photos, videos, documents, etc., this software is designed to recover them quickly and easily. With support for a wide range of file extensions such as word, excel, rar, jpg, png, rmvb, zip, mp3, mp4, and more, Tenorshare 4DDiG Windows Data Recovery effortlessly recovers all kinds of files that are lost from external hard drive, USB flash drive or memory cards.

One of the best features of this Windows 10 data recovery software is its ability to recover data from various storage devices including hard drive, USB flash drive, etc. with FAT12, FAT16, FAT32, NTFS file system, as well as Mac and Linux file systems (HFS, HFS+, EXT2, EXT3). It is so easy to use that data can be recovered within a few clicks, making it an ideal choice for all users, including home, business, and enterprise users.

Key features of Tenorshare 4DDiG Data Recovery include its ability to recover more than 550 file types from PCs and various storage devices like USB flash drive, SD card. With two recovery modes, users can easily solve data loss recovery problems. It also supports all file systems including FAT12, FAT16, FAT32, NTFS, HFS, HFS+, EXT2, EXT3, and EXT4 partitions. Users can preview photos and listen to audio files before recovering them, and retrieve only the files they want to recover. It is fully compatible with the latest versions of Windows 10 and can recover data from various sources such as PCs, laptops, hard drives, USB drives, SD/memory cards, digital cameras, and other storage media.

In conclusion, Tenorshare 4DDiG Windows Data Recovery is a reliable and efficient data recovery software that can recover lost data from any Windows system, regardless of the cause of the data loss. Its user-friendly interface, wide compatibility with various file systems and storage media, and the ability to recover different file types make it the perfect data recovery software for all users.
What's New
Version 3.1.2: Fixed some bugs and improved performance.