Texefex generates gradient text effects in HTML or RTF format for use in documents, mails, or webpages. Customize existing rainbow colors or create a unique gradient. It works seamlessly with applications such as PowerPoint, Word, and Outlook.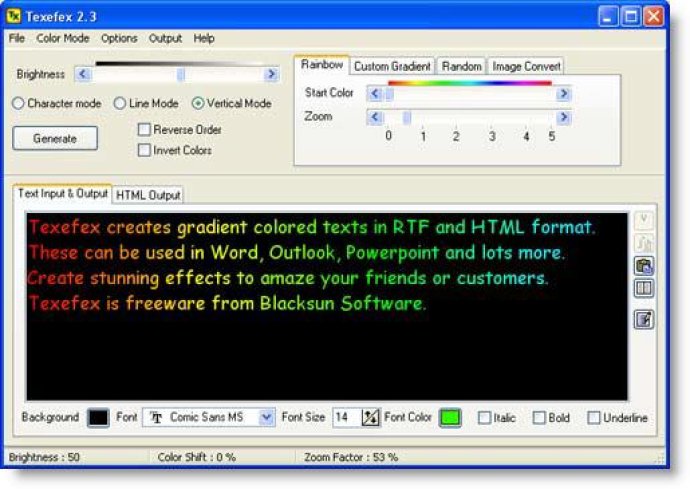 Texefex is an incredible software that enables you to create visually appealing gradient text effects suitable for use in your mails, documents, or web pages. The software comprises of amazing features that let you choose from a variety of rainbow colors or customize gradients that fit your preferences perfectly. With Texefex, you can choose to output your created gradient text in HTML or RTF format, which can be imported into popular applications like Word, PowerPoint, or Outlook with ease.

The beauty of Texefex is that it offers a diverse range of effects that can be applied to all kinds of documents or presentations, thus making it the perfect tool for spicing up your documents and presentations. If you are looking to make your web pages more engaging and visually stimulating, Texefex is definitely the tool you need to get the job done effortlessly.

Additionally, Texefex offers an innovative feature that allows you to convert images into text, giving you more options to create stunning visuals for your documents, mails, or web pages. In summary, if you are looking for a top-notch software that offers impressive gradient text effects and even image-to-text conversion capability, Texefex is the perfect choice for you!
What's New
Version 4.0: HTML code generation changes