Text Statistics Analyzer is a tool that quickly generates character, word, and line statistics from any text. It also allows for exporting data into a CSV file for deeper analysis.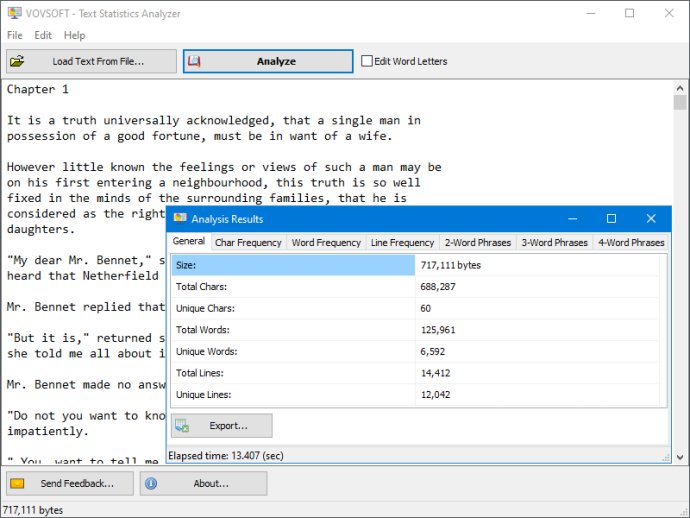 If you are someone who is studying linguistics, then you may find this lightweight software utility to be quite handy. With this program, you can analyze the statistics on your character, word, and line frequency. The software's Graphical User Interface (GUI) comes equipped with two main buttons. One allows you to load your text from a file, while the other initiates the analysis itself. However, you can also paste the text directly into the software's main window, where you can take a closer look and even make changes if necessary.

After analyzing your text, the software utility presents you with various statistics in a new window that is organized into several tabs. The General section gives you information on the total number of characters, words, and lines, as well as the number of unique elements used in your text. Additionally, the software allows you to interpret the character, word, and line frequency, with each item detailing the number of instances it appeared in your text. Furthermore, the frequency is expressed in percentage points, providing you with a comprehensive overview of your linguistic habits.

If you prefer to explore the results of your analysis in a CSV file, the software allows you to do that as well. A button at the bottom of the second window enables you to export all the data, making it more comfortable to peruse the results of your analysis. Overall, this software utility could prove to be a useful tool for anyone interested in analyzing the character, word, and line frequency of various texts.
What's New
Version 2.0: Fixed critical bug related word recognition using different language character sets. Added save to file feature. Added vertical scrollbar into feedback window.