This software allows users to add text and make various adjustments to photos, including changing fonts, colors, and transparency. It also offers the capability to add text to multiple photos simultaneously.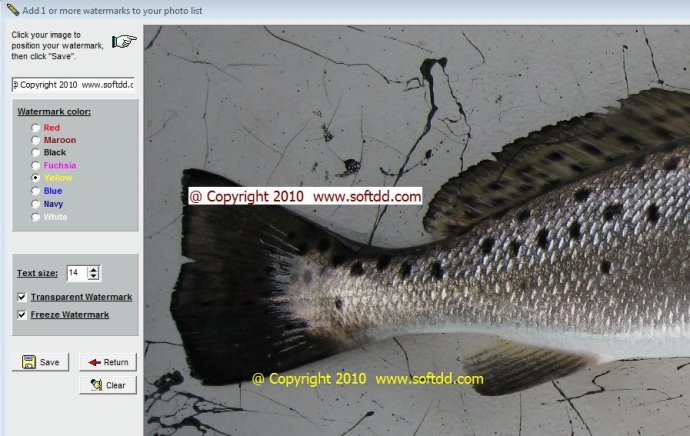 This software is great for those who are looking for a way to easily add text to their photos. With the ability to point and click, you can add text one photo at a time, or you can do it in bulk. Your watermarked photos can be viewed and saved instantly. Plus, with the ability to adjust colors, change fonts, and make transparent, you have complete control over your watermarks.

Adding a watermark to your photo is a great way to protect your images. You can add a website URL, copyright, name, or title to your photo, all while maintaining the integrity of your original image. In addition, you can add multiple watermarks, and move them around to different locations on the photo. It's all up to you!

It's worth noting that your original photos are never altered when you use this software. New copies are made when your watermarks are added, ensuring that your original files remain untouched.

As an added bonus, this software also allows you to adjust the JPEG compression level on your photos. This is useful if you need to reduce the file size of your photos, such as when emailing them or putting them on webpages. You'll be able to quickly and easily adjust the compression level while still maintaining high quality photos with the same resolution.

Last but not least, this software includes a bulk file renaming feature. With just a few clicks, you can easily rename files in an entire folder. This is a great time-saver for those who work with a lot of photos.

Overall, this software is a great tool for anyone who needs to watermark and edit their photos. It runs on all Windows systems, so it's easily accessible to a wide range of users.
What's New
Version 2.32: New features added