IMonitor Time Sheriff is a customizable computer time control and parental monitoring software for parents and small businesses. With the ability to set specific time limits for different applications, users can easily manage their children's gaming time by limiting usage to 2 hours per day.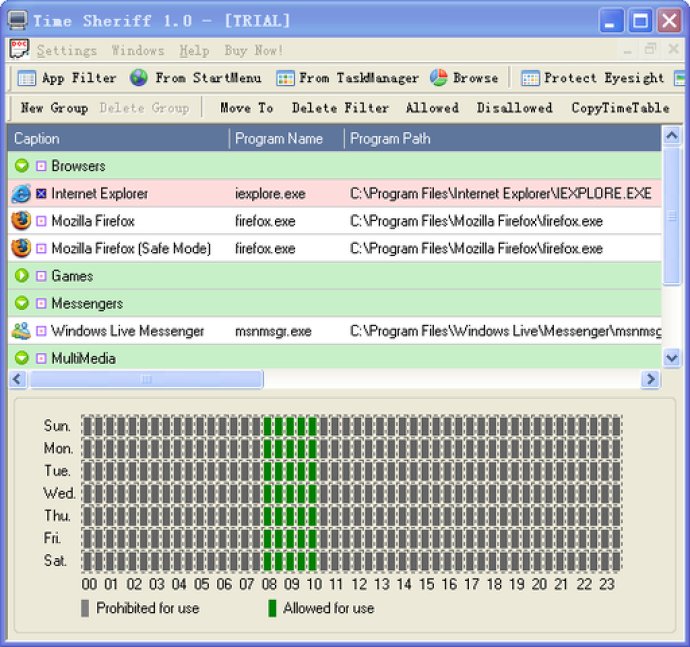 IMonitor Time Sheriff is a powerful parental control software and computer time control software that can help safeguard your kids and small businesses. This software enables you to set individual time limits for each application, allowing you to grant your kids two hours of daily gaming, or completely eliminate access to specific programs. The software can also make your kids take short breaks to relax their eyes and protect their health.

As you may know, computer usage can be a real struggle for children, particularly if they are spending too much time hunched over the computer screen. This may lead to health issues such as strained wrists, backache, and eye problems. However, with IMonitor Time Sheriff, you can set limits on how much time your child spends on the computer or online, and control their access to specific applications.

IMonitor Time Sheriff comes with several robust features such as limit time your kids spend on the home PC, restriction of computer time while they play games, controlling time when your child or kid work on the PC or online, specify the time when your child is surfing the internet. With this software, you can also restrict access to computer system time, set work time and break time to protect your kids' eyesight and health. The software can work in stealth mode and can only be uninstalled with an administration password, and also allows for Windows Access control, individual application, and group limits.

Parents would find IMonitor Time Sheriff useful to restrict their children from using the computer at specific times or for specific tasks to protect their children. With this software, you can make sure that your children only access the internet while their parents are home, set time limits for their computer usage, and even control when they can access specific applications.

Likewise, IMonitor TimeSherriff is also beneficial for businesses, schools, libraries, and other areas where computers are provided for free access. It can be used as a security measure to prevent unauthorized computer usage during non-working hours, thereby increasing productivity and reducing the risk of computer-related hazards.

In summary, IMonitor Time Sheriff is a robust parental control software that grants parents full control over their child's computer usage, limiting the time they spend online while guarding their eyesight and health. Its stealth mode, administration password, and application limits make it a powerful security tool for businesses, schools, libraries, and other places.
What's New
Version 1.03: Suppport multi-user
Version 1.01: New release