Tiny Security Suite is an all-in-one security software with features like VPN, file and text encryption, folder hiding, Firewall, shredding, and Tor browser. Its encryption methods include AES and Triple DES.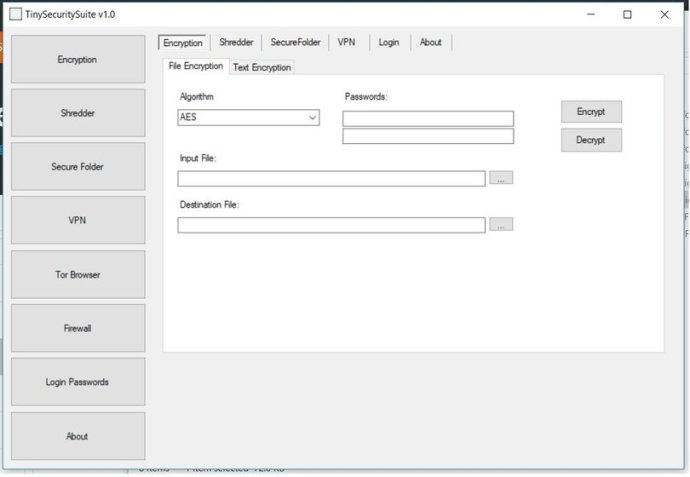 Tiny Security Suite is a powerful software that offers a plethora of security features for your computer. This all-in-one suite includes extensive functionality such as encryption, shredding, VPN, folder hiding, Firewall, and Tor Browser.

One of the most remarkable features of Tiny Security Suite is its encryption capabilities. With AES and Triple DES encryption, you can encrypt your files and text with ease. This means that your sensitive data will remain secure and confidential even if it gets into the wrong hands.

In addition to encryption, Tiny Security Suite also includes a shredder function that enables you to permanently delete files from your computer. This is especially useful if you want to make sure that your files are not recoverable after deletion.

The Secure Folder feature is yet another valuable function in Tiny Security Suite. It allows you to hide your files and folders from prying eyes. This is an excellent way to protect your data from unauthorized access.

For your online protection, Tiny Security Suite provides a VPN service that uses OpenVPN configuration files. However, to use this function, you will need to have OpenVPN installed on your computer.

If you want to browse the internet anonymously, then the Tor Browser feature in Tiny Security Suite is what you need. This feature allows you to access the Tor network and browse the web securely without leaving any traceable footprints.

Finally, Tiny Security Suite includes Firewall functionality to further enhance your system's security. It uses the Firewall PaPI and ensures that your system is protected against external threats.

Overall, Tiny Security Suite is an excellent software that offers comprehensive security features to protect your privacy and data. Its user-friendly interface and wide range of functionalities make it a must-have for anyone looking for an all-in-one security solution for their computer.
What's New
Version 1: N/A