Tipard Free PDF to BMP Converter swiftly and accurately converts PDF documents to BMP format while maintaining the original file's layout, images, and forms.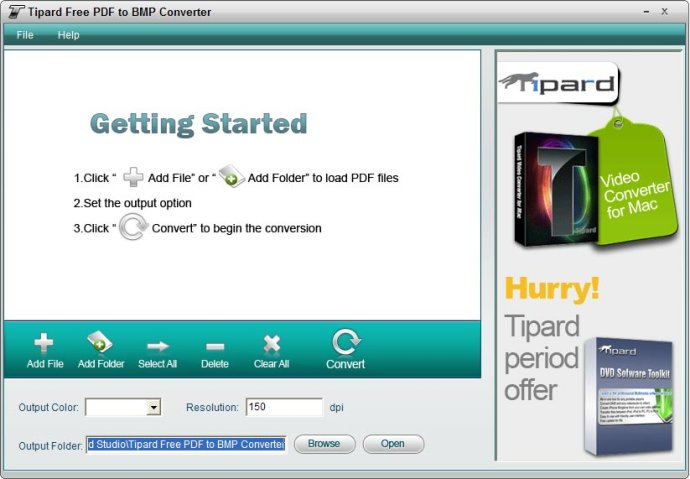 Tipard Free PDF to BMP Converter is a top-notch software that allows users to seamlessly convert PDF files to BMP format. This program offers exceptional output quality and fast conversion speeds that make the process of converting PDF to BMP quick and easy. With this software, you can easily convert specific pages of a PDF to BMP for free while still preserving the images, forms, layout, and other elements of the original PDF file.

The key feature of this software is its ability to convert PDF to BMP format for free without compromising on the output quality. Additionally, users can choose to convert the current page, all pages, or specific selected pages to BMP format. The software also enables you to convert multiple PDF files to BMP at once without any loss in quality.

Tipard Free PDF to BMP Converter also features a preview window in its interface. This window allows users to preview the PDF file before converting it to BMP format. The software is designed with an intuitive interface and straightforward operation steps, making it easy to use for beginners and advanced users alike.

Furthermore, the software boasts a configured OCR technology that allows users to select conversion modes such as Accuracy, Balance, and Speed. The accuracy mode significantly improves the recognition ratio, ensuring highly accurate PDF to BMP conversions. This professional software also supports multiple languages, including English, Turkish, Thai, Latin, Korean, Greek, Arabic, Japanese, Chinese, and many more.

In conclusion, if you need to convert PDF to BMP format with high quality and fast speed, Tipard Free PDF to BMP Converter is an outstanding software solution to consider. With its exceptional features and intuitive interface, this program makes PDF to BMP conversions quick and straightforward.
What's New
Version 3.1.18: Fix some bugs.
Version 3.1.16: 1. Modify the problem that some pdf files fail to load