Tipard Mac Video Enhancer is powerful video software that enhances video quality, adjusts brightness and contrast, cleans noise and lessens shaking. The software improves the watching experience by producing high-quality videos on Mac.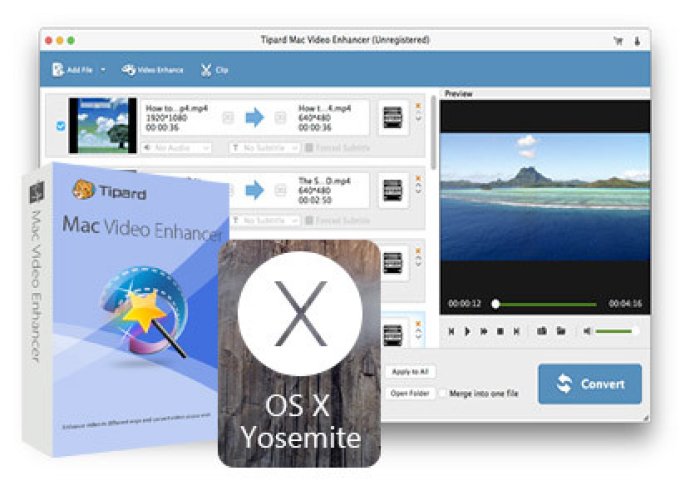 Tipard Mac Video Enhancer is a powerful tool that aims to help you improve the video quality from many aspects. With its enhancing functions, you can easily get a high-quality video that meets your needs. One of its key features is the ability to upscale video resolution, optimizing brightness and contrast, removing video noise, and reducing video shaking.

Additionally, this software provides many other editing functions including clipping, cropping, rotating, and adding a watermark. With these features, you can customize your video to meet your specific requirements.

The upscaling feature is particularly useful. With just one click, you can upscale your video from 480p to 720p, 1080p HD, or even 4k UHD. This feature ensures that your low-resolution video does not compromise your final output's quality.

The optimization feature is another excellent function. The program optimizes the brightness and contrast of your video, giving it a vibrant look. You'll find that the converted video has a significant difference from the former one.

The software's noise removal feature provides an excellent solution to remove annoying image noise from old movies and DVD videos. With this feature, you'll get clear videos without any mosaic or white noise.

When recording a video, you might get a shaky video due to slight hand movements. This software has a video deshaking function that helps eliminate this problem with ease. Once the video is stabilized, it will give you comfortable images to watch.

The software also allows you to rotate and flip your video to the right angle. You can rotate your video 90 degrees clockwise or counterclockwise or flip the video horizontally or vertically according to your need.

This software is a must-have for anyone who wants to improve their videos' quality. It is straightforward to use and has a wide range of features that cater to your need for video editing.
What's New
Version 9.1.32: 1. Modify the copyright period.
2. Fix the display problem of Mac program mount drive
3. Fix some bugs.
Version 9.1.30: 1. Fix the problem of incomplete display of ass subtitles
2. Add pcm encoder to Prores in profile
3. Add flac audio encoder for MKV format
Version 9.1.28: Modify the screen rotation problem after converting MOV video
Version 9.1.22: Fix some bugs.
Version 9.1.18: Fix some bugs.
Version 9.1.16: Support new iPhone XS/XS Max, iPhone XR, iPhone X, iPhone 8