Tipard Video Enhancer improves videos by enhancing resolution, adjusting brightness/contrast, and reducing noise. It can also rotate and flip the video direction. The software works with Windows 10.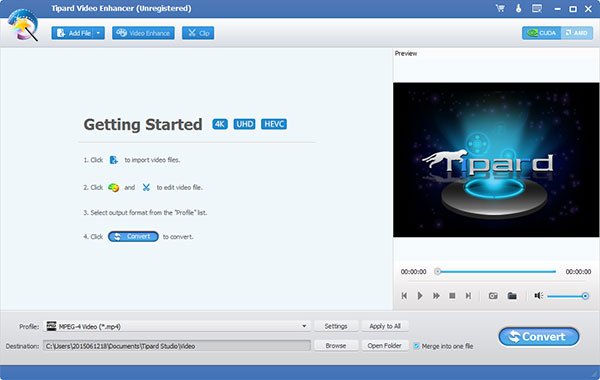 If you are on the hunt for software that can improve the quality of your videos, Tipard Video Enhancer is an excellent choice. Aside from enhancing the quality of your videos, the software includes a variety of other valuable features. One of the key benefits of using this software is its ability to increase the quality of your video. The software can enhance your video's resolution, remove noise, and adjust brightness and contrast, all of which will make your video's quality and clarity significantly better.

Tipard Video Enhancer is also equipped to let you rotate or flip your video in different directions, providing you more creative flexibility when editing. The software can convert videos to various file formats, such as MP4, MOV, MKV, AVI, WMV, and more. Additionally, the software supports 4K Ultra HD video.

Editing tools are essential for any video-enhancing software, and Tipard Video Enhancer comes equipped with abundance of them. You can crop your video frame, adjust attributes like brightness, saturation, contrast, and hue, and introduce watermarks or text overlays.

Overall, if you need an all-encompassing video enhancement and editing software, you should definitely give Tipard Video Enhancer a try.
What's New
Version 9.2.50: Fix some bugs.
Version 9.2.38: Fix some bugs.
Version 9.2.36: Fix some bugs.