tkCNC Editor is a dedicated text editor that allows fast editing and verification of CNC code for CNC machines. Created specifically for CNC programmers and operators, it facilitates the editing of G-code for CNC machines.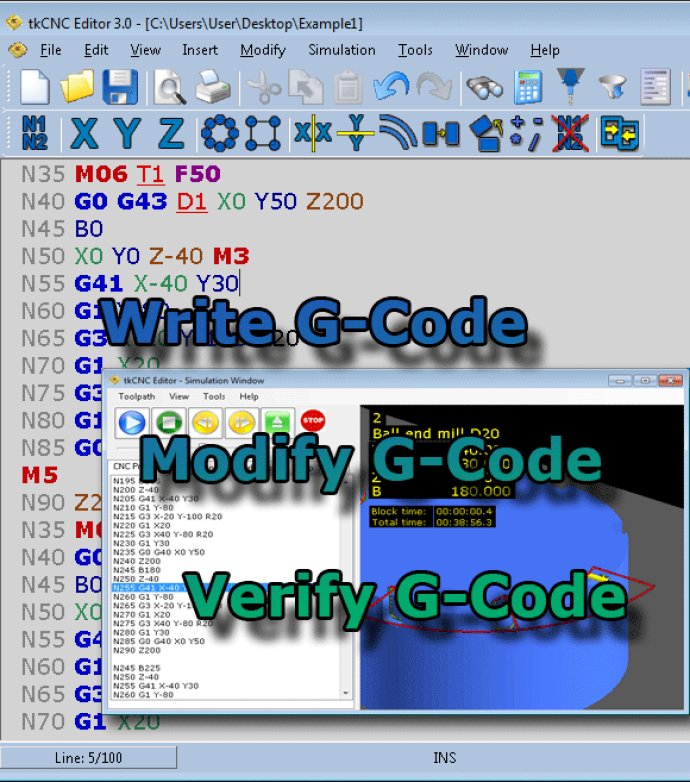 The tkCNC Editor is a software tool designed specifically for CNC programmers looking to edit and verify their CNC code. With its user-friendly interface, the software offers a variety of features designed to streamline the CNC programming process.

Among the features now available in version 3.0, users will enjoy MDI functionality, which enables the editing of multiple CNC documents at once. Other improvements include fast G-code syntax highlighting, unlimited Undo/Redo options, Print Preview to ensure optimal printing, and standard text editor functions such as Cut, Copy, Paste, Delete, and Select All.

The software also offers a fast CNC program renumbering feature, as well as a Find/Replace function with special features specifically designed for CNC code searching. Additionally, tkCNC Editor offers smart CNC code templates for effective code reuse, as well as a point import feature that enables the easy importing of points directly from AutoCAD.

Another popular feature is the software's generator of circular and rectangular point patterns (coordinates). In addition, tkCNC Editor offers various functions for working with CNC code registers, including mirroring, renumbering, translation, 2D and 3D rotation, mathematical operations (+,-,*,/), sorting, and more.

Users can also expect to benefit from improved conversion of CNC code from polar to Cartesian systems and vice versa, and enjoy the option for reversing toolpath direction. With features like CNC code registers swapping and sorting (order in block), stripping of block numbers, improved 3D toolpath simulation/verification with the option for toolpath export in DXF files, and editing of 2D machining contour visually and conversion from DXF to G-code in a few simple steps, the software offers a comprehensive set of tools to meet any CNC programming need.

Finally, users will appreciate the software's new machine wizard for definition of new machines, the Degrees conversion from Degrees/Minutes/Seconds format to decimal format and vice versa, the Automated CNC documents merging, 'QuickCalc' function implemented in the text editor window for quick calculation of simple mathematical expressions directly in code, and the file comparison tool, ExamDiff. All of these features and functions make tkCNC Editor a top choice for programmers looking to optimize their CNC programming process.
What's New
Version 3.0.1.222: improved simulation speed, bug fixes, help links updated