This free software converts audio files to MP4 format with complete tag editing functions and a player to compare the original and encoded audio. It has a simple interface.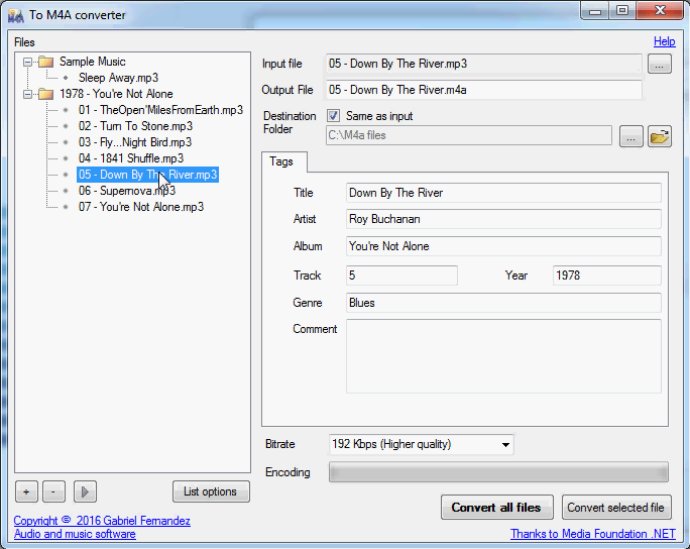 If you're looking for a software to convert your audio files to the MP4 audio format, look no further than the To MP4 Converter. Not only is it free, but it's also incredibly powerful, making it a great choice for both beginners and advanced users alike.

One of the things that really sets To MP4 Converter apart is its simple interface. Even if you're new to audio conversion, you'll have no trouble navigating the software and getting started with your conversion process. Plus, with complete tag editing functions, you can easily customize your files and make sure they're organized the way you want them.

Another great feature of To MP4 Converter is its internal player. This allows you to compare the original audio files to the encoded ones, so you can make sure you're getting the best compression settings for your needs. With this kind of flexibility, you can rest assured that your audio files will always be of the highest quality.

And when it comes to input formats, To MP4 Converter has you covered. Most audio formats are supported, so you can convert just about any audio file you need. Plus, with the ability to convert multiple files at once, you can save time and get more done in less time.

Overall, if you need to convert audio files to the MP4 audio format, To MP4 Converter is a great choice. It's free, powerful, and incredibly easy to use, making it the perfect software for anyone looking to convert audio files quickly and easily. So why wait? Download it today and start enjoying your audio files in no time!
What's New
Version 1.1: Updated compatibility with Windows 10/11