This powerful software, designed for MSSQL database migration, converts index structures with all corresponding attributes, while supporting several SQL data types, unique key, foreign key, primary key, default or null value, and more.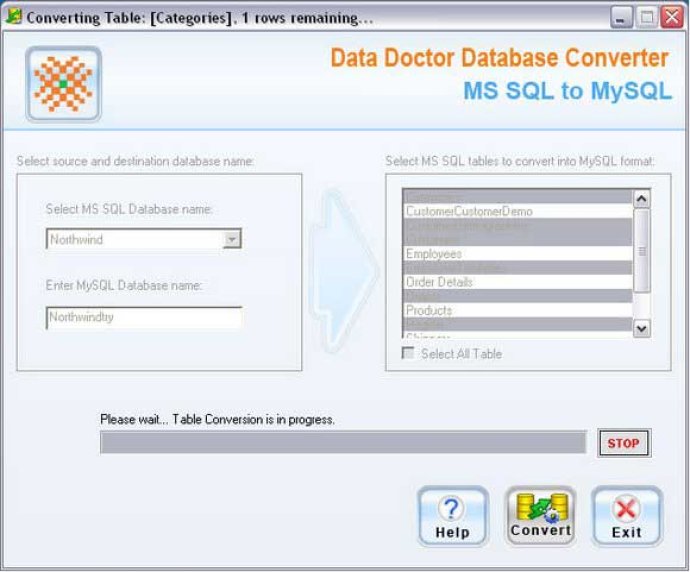 If you are looking for a reliable and efficient way to transfer your large MSSQL database into MySQL database format, then the MSSQL database to MySQL server conversion software is the perfect solution for you.

This database file converter utility is designed to seamlessly transfer your MSSQL database into MySQL db format without requiring any modification in its actual data. It supports clustered or non-clustered indexes, views, schema, attributes, entities, null or default value, table structure, rows, columns, foreign key, unique key, and primary keys constraints – ensuring that your data is safe and secure.

The database synchronization software provided by this tool can securely overwrite or merge the contents of existing MySQL database records in less time. Additionally, it supports Unicode architecture and all key constraints with all necessary attributes, making it a versatile tool for all kinds of database synchronization needs.

This database synchronization application supports all major latest versions of MSSQL database like 2000, 2005, etc. and MySQL such as 4.0, 5.0, etc. Moreover, our database file transform software is easily understandable by both non-technical and technical persons, and provides a systematic, step-by-step help guide for user assistance.

Features of this professional MSSQL database transfer tool include accessibility on all Microsoft Windows operating system including Windows Vista, NT, XP, ME, 2003, 2000, 98, etc., cost-effectiveness, attractive user-friendly graphical user interface (GUI), and support for all database entities including attributes, null value, default value, unique key, and primary key constraints.

Our free trial database transfer application lets you transfer selected database or entire table records of MSSQL db into MySQL server, and our distributed database converter software provides full install or uninstall support.

In summary, this MSSQL database to MySQL server conversion software is a powerful and flexible tool that can help you save time and effort when synchronizing databases between different platforms. Try it today and experience the benefits for yourself!
What's New
Version 3.0.1.5: Added support for latest version of database