The barcode software generates printable barcodes for warehouse industries with advanced settings, including the ability to save, export, and print. It also allows for the dynamic creation of bulk barcodes with batch processing by inputting values from an Excel file.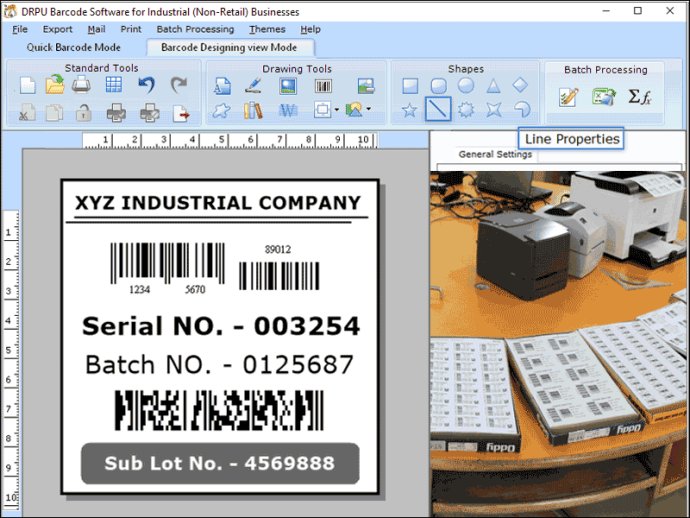 The Packaging & Labeling Application is a useful tool for the manufacturing and warehousing industries, allowing for the creation of barcodes in bulk. This software generates barcodes quickly and easily by utilizing batch processing via Excel and Text based files. Once created, the barcode can be easily scanned or decrypted with the integrated barcode scanners.

Creating barcode labels for the warehousing industry is a simple process with this application. First, users can select a new file from Quick barcode mode or Barcode designing view mode. In Quick Barcode mode, users can select a new file from the menu tab, choose the barcode font, and select the barcode technology as linear and 2D barcode. In Barcode View Designing Mode, users can create custom barcode labels after selecting appropriate choices or options.

After creating a new file, the next step is to design the barcode. The barcode software offers various options for designing the barcode, including setting the header and footer value of the barcode, design the barcode by setting the color options, image settings, and general settings. Color settings allow for designing the barcode with different colors for the header and footer as well as setting the background color as transparent or colored with a color setting option. Image and general settings allow the user to set an orientation for the barcode as landscape or portrait by setting the numerical angle value. General settings provide the margin properties to set the header-footer, top-bottom, and left-right margin for the barcode.

Creating bulk barcodes is also a straightforward task with this application. Users can create multiple copies of barcodes using batch processing series and can import the Excel file to add bulk content for the multiple barcodes. Once the barcodes are created, they can be easily exported into different file formats like image (PNG, JPG, bmp), or PDF.

Finally, users can easily print the generated barcodes or take a print preview of the barcode. The barcode software for the warehousing industry allows the user to take the print of the generated barcode or use predefined label stock. Overall, the Packaging & Labeling Application is an efficient tool that simplifies the process of barcode creation for the manufacturing and warehousing industries.
What's New
Version 9.2.3.2: Added Support for Latest Windows 11 OS Updates. Added Support for High DPI resolutions Compatibility. Added new Barcode Technologies. Added additional Batch Processing Features to import Data from Excel Sheets.