Remote Support is a trusted and secure software solution offering remote troubleshooting, computer access, file sharing, and application support. It ensures seamless remote control capabilities from any location, making it a viable alternative to TeamViewer for efficient customer and employee assistance.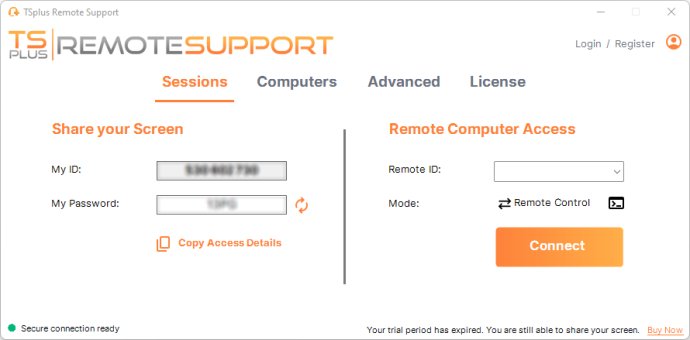 If you are in need of efficient and reliable remote support software, TSplus Remote Support is the solution for you. With the rise of remote workers worldwide, providing support for remote endpoint computers has become a major challenge. Unfortunately, many existing solutions on the market are not only costly but also come with complex management processes. Thankfully, TSplus Remote Support offers a simple and affordable alternative to expensive competitors such as TeamViewer and LogMeIn.

So, how does TSplus Remote Support work? It's quite straightforward. You simply install a small program on your central server or private company cloud. No installation or configuration is required on the client side. The interface follows the universal model of Remote Support solutions and will be familiar to users of TeamViewer. It is extremely user-friendly, making it easy for both the agent and client to navigate.

Support agents can easily enter the client's computer ID and the unique one-time password generated by Remote Support. The password is easily copied and shared with agents to enable screen sharing. With a single click, the agent can establish a connection. All connections made are secured with SSL/TLS encryption to ensure the entire process is completely safe.

Additionally, TSplus experts handle all server and connection client updates and maintenance to enforce corporate data privacy. Our servers are strategically located around the world to provide the best possible customer experience. With TSplus Remote Support, you can improve problem-solving through features such as screen sharing, PC remote control, unattended access, file transfer, and chatbox functionality.

Getting technical support should be easy, not frustrating. Instead of relying on onsite service calls that take time and increase costs, try troubleshooting issues remotely with TSplus Remote Support. Our monthly subscription model allows you to effectively manage your IT budget. TSplus Remote Support is the simple and cost-effective SaaS solution you need to maximize your support investment. So why wait? Start assisting your users today with TSplus Remote Support!
What's New
Version 3.60: Administration Console: fostering collaboration among users within your subscription
Fixed:
changing user info makes the user leave the subscription
user defined language is not applied
custom brand colors are not rendered
a non descriptive error message when editing a folder or a computer
Version 3.50: Major performance improvements on screen capture - up to 5x more FPS
Reduced overall CPU usage
Remote mouse cursor is now showing only when needed
Improved handling of reconnection scenarios
Fixed client blinking/crashing after a long screen sharing session
Other improvements and bug fixes
Version 3.40: Unattended access activation using command line
Added Startup Menu shortcut to run the client
Client now only need to allow traffic on port 443
Removed the limit of 1 Remote Support client per server
Wake-On-Lan support for unattended computers
Fixed "access is denied" when the client starts
Version 3.30.321: Added Chinese simplified, Hebrew, Polish and Russian translations
Added minimization of the interface when a session is shared
Unattended: Hide the chat window
Added confirmation when exiting an ongoing screen sharing session
Viewer: Added quick access to Windows system tools
Bug fixes
Version 3.30: Session recording: sessions can now be recorded as video files
Screenshots: screenshots can be taken during sessions
Customization: texts and icons color can be changed to better fit branding
Location and size of viewer window is saved when closed, and reloaded
Bug fixes and other improvements