This software provides intelligent server monitoring with remote access tracking, website performance analysis, and RDP session management. It predicts and prevents issues while ensuring optimal server performance, offering comprehensive insights into RDS server environments.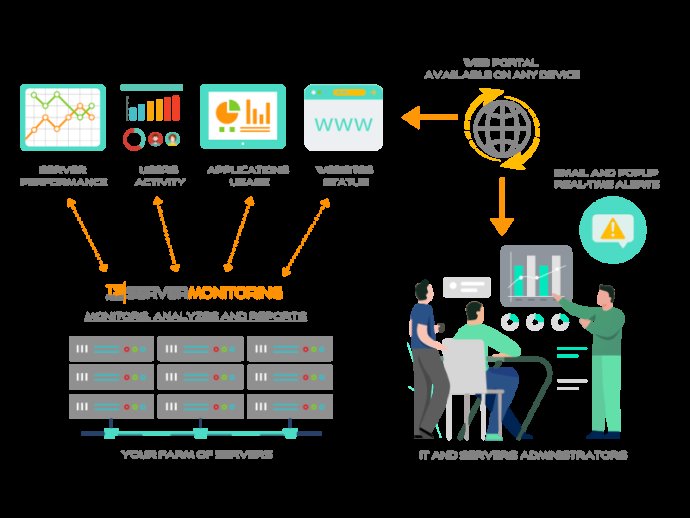 If you're in search of reliable server monitoring and reporting software, look no further than Server Monitoring. This powerful software allows you to track, record, and analyze user activity across all applications, including Remote Desktop and Terminal Services connection methods.

One of the significant advantages of Server Monitoring is its ability to provide instant alerts to IT teams regarding abnormal or suspicious user activity. This feature is made possible by the software's performance and application analytics, which can identify potential issues before they become serious problems.

Server Monitoring also offers session recording, capturing user activity from the moment they log in to a Windows machine via RDP or Terminal Server. This capability allows for a comprehensive record of all activity during each user's session.

In addition to these features, Server Monitoring provides an enterprise-scale reporting of all terminal server sessions, Citrix sessions, and other remote control software. These reports are compressed and searchable, making it easy for IT teams to manage their production environment efficiently.

The software also monitors website performance, visits, and stability, providing real-time alarms in case of suspicious events that could lead to failure. It offers customizable alerts based on unusual or sensitive thresholds, allowing IT teams to troubleshoot major issues faster. By displaying important events in real-time, Server Monitoring enables a proactive approach to threats to IT security, system integrity, regulatory compliance, and company policies.

Furthermore, Server Monitoring helps overcome employee idleness through user activity monitoring and prevents under- or over-licensing with license usage reports. It allows you to view the details of all Windows sessions, sorted and grouped by server, providing ample information for auditing and troubleshooting needs.

In conclusion, Server Monitoring is a must-have software for optimizing and managing your server environment. It provides the ability to understand, predict, and avoid incidents with ease. Download Server Monitoring today for free and experience the difference it can make for your organization.
What's New
Version 5.4.926: You can now define a pin code asked before ServerMonitoring launch
Email alerts: email subject contains server alias if it has one
Fixed issue in sending some alert emails
Fixed translation files format issue
Fixed User Attendance report sending
Fixed database becomes unreachable after updating
Version 5.4.411: Added rehost date in licence status for rehosted computers
Setup: Fixed SQL Server Express failing to install in some cases
Update: Fixed custom database information overriden by default values
Report exporting: Fixed emails not being sent when receiver emails were separated by carriage returns
Version 5.4: Server Monitoring can now monitor Linux servers
Improved navigation performances
Fixed UI crash when launching an update
Fixed crash during agent setup on Windows servers with .NET v.4.6.x
Server dashboards and server edition: fixed issues occurring in case of several servers having same name
Version 5.3.3: Fixed application not restarting when language is changed
Fixed application crash when scrolling just after starting the application
Improved English translations
Setup: added Chinese simplified, Chinese traditional, Arabic, and Farsi translations
Setup: technical improvements
And more
Version 5.3: When starting the software, if database is not reachable, a warning message is displaying and menus are disabled, instead of errors when trying to access those menus.
Fixed reports scheduling time, which was not saved in UTC format.