TuneFab Spotify Music Converter is a Mac-compatible software that allows users to remove DRM protection from Spotify music and convert the audio tracks from OGG format to popular file types such as MP3, M4A, WAV, and FLAC. This enables users to play their favorite music on different devices and media players.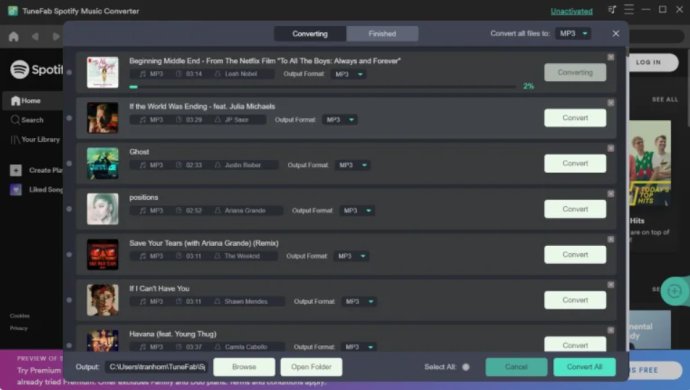 As a subscriber to Spotify Premium, you might be aware of the limitations imposed on downloading songs for offline listening. You are allowed to download only up to 3,333 songs on a single device and listen to them on a maximum of three devices. Additionally, the DRM encryption on the songs can prevent you from listening to them outside the Spotify platform on any device or media player.

If you want to free your Spotify songs from these restrictions, TuneFab Spotify Music Converter is an ideal option for you. This converter is a powerful tool that helps remove DRM encryption from Spotify songs. It offers several features that can make life easier for music lovers.

Firstly, you can use TuneFab Spotify Music Converter to convert Spotify's OGG songs into common MP3 audios, which are compatible with almost all devices and media players. Secondly, the software can deal with DRM encryption professionally, and this can enable you to save the music freely and play it anywhere at any time.

TuneFab Spotify Music Converter can also preserve song information such as the ID3 tags and metadata from Spotify tracks to prevent the loss of track information. The interface of TuneFab Spotify Music Converter is sleek and clear, and the software is easy to operate. You can simply drag and drop the Spotify songs and convert them with just a few clicks.

Finally, TuneFab Spotify Music Converter runs on Mac OS X 10.10 - Mac OS X 10.15 and supports input formats of Spotify's OGG format, and output formats of MP3, M4A, WAV, and FLAC. With TuneFab Spotify Music Converter, you can unlock the full potential of your Spotify Premium subscription without having to worry about the limitations imposed by the platform.
What's New
Version 3.1.5: 1. Improved music conversion success rate.
2. Fixed the issue of blurry album cover art and incomplete ID3 information.
3. Fixed the problem of incomplete artist page.