TunnelRat is an essential software for MS RAS VPN users who experience occasional disruptions. With automatic monitoring and restarting, TunnelRat ensures that your VPN is functioning properly at all times, preventing the hassle of manual intervention.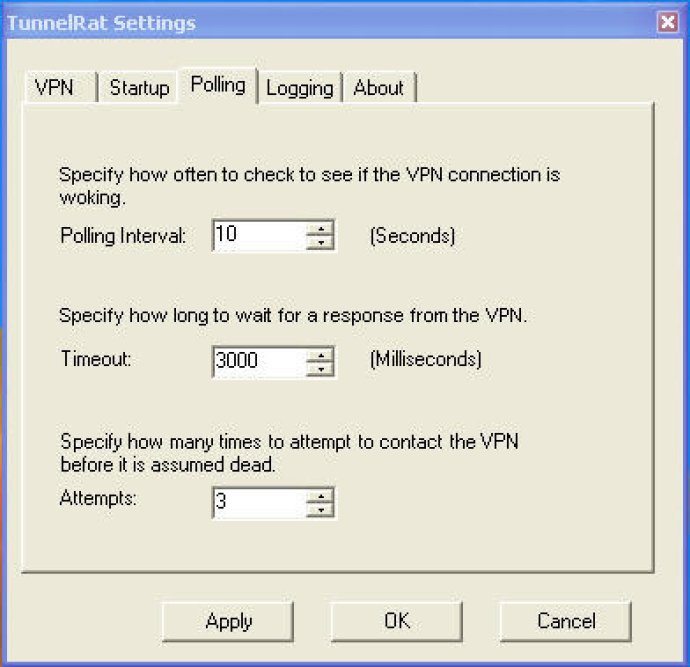 As a frequent user of Microsoft's built-in VPN with PPTP protocol, you may have encountered issues that cause your VPN to stop working. If you're experiencing this problem, the solution is TunnelRat.

TunnelRat is easy to install and runs in the tray area of your Windows XP system. It periodically sends a packet through your VPN tunnel. If the packet doesn't transmit successfully, TunnelRat goes beyond the built-in functionality to reconnect the VPN, even if the VPN didn't drop.

This program is very user-friendly and automatically configures itself, making it a simple solution for those who may not be tech-savvy. In addition to monitoring your VPN, TunnelRat can also automatically start your VPN when you login to Windows XP.

The best part? TunnelRat is absolutely free to use, with no expiration, upgrade, or ads. The program was developed to solve a specific problem and then shared, making it a practical solution for any Windows XP user.

For added protection, we also recommend Rhinoback Online Backup to safeguard your data against accidental loss or disaster. Your data is automatically backed up and moved off-site, giving you peace of mind knowing your information is safe and secure.
What's New
Version 1.0: N/A