This software offers interactive training for Hindi Remington Gail typing. It helps users to increase speed, accuracy and productivity. It also allows monitoring of typing speed.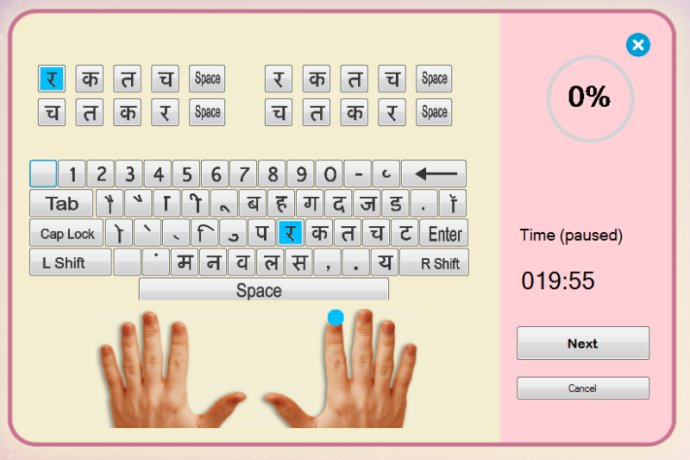 If you're looking for a reliable typing tutor to improve your Hindi typing skills, then the Hindi Mangal Unicode software is definitely worth considering. Not only does it support the widely accepted Remington Gail Keyboard layout for typing in the Mangal Unicode Font, but it has also been made compulsory by the Indian Government for use in various government departments.

Moreover, if you need to take any Hindi typing examinations like CPCT, CRPF, UP Police Computer operator, CISF, SSC, FCI, and many more, then you must use the Mangal Unicode font. Similarly, the Mangal Hindi font is also used in SSC Exams for the Typing Test and Stenography Test. With Hindi Mangal Unicode Font, you get three different keyboard layouts in the form of Inscript, Remington Gail, and Remington CBI, giving you more flexibility when typing Hindi.

Typing Guru Tutor, an interactive training tool designed for building typing speed and improving accuracy, is included with the software. Once you complete each lesson, the software calculates your typing speed in words per minute and accuracy percentage. Each session offers three lessons, with the first one focusing on characters, the second on words, and the third on paragraphs. The tutor helps you in finding the right keys to be pressed in the first and second lessons, but in the third, you're on your own.

Besides, you can easily adjust the time duration for each lesson, or for the entire course with just a single button click, ranging from 5 minutes to 30 minutes. This feature allows you to focus more on any particular lesson or all the lessons depending on your requirements. Finally, the software offers multiple free typing games to make the learning process more fun and engaging. You can choose from three different types of learn-to-type games - Bubbles, WordTris, and Clouds - each focusing on different aspects of typing skills.
What's New
Version 1.0: Typing Tutor designed for interactive training. It helps in speed building , improves typing accuracy and hence makes more productive. Monitor your Tying speed that is word per minute and accuracy percentage after completion of each lesson