iToolab UnlockGo is a user-friendly software that swiftly unlocks iPhones/iPads, eliminates iCloud activation locks, screen passcodes, Apple IDs, Find my iPhone, MDM profiles, etc. without passcodes. It is quick, efficient, and requires only a few minutes to complete the tasks.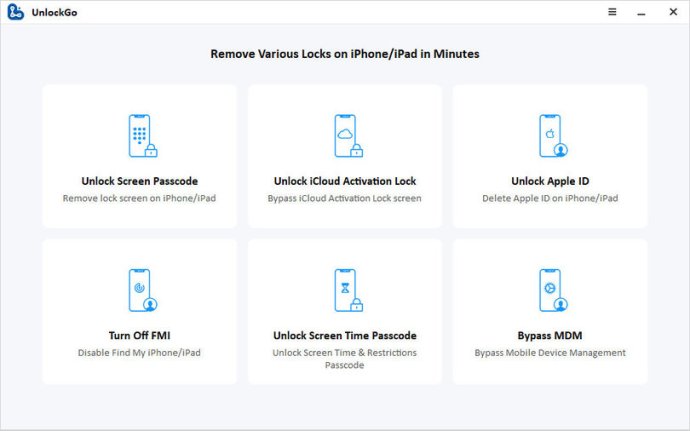 UnlockGo is a software application that allows users to instantly unlock their iPhone or iPad's passcode. It can unlock all types of screen lock, including 4-digit, 6-digit, alphanumeric or custom numeric, Touch ID, and Face ID. This software is particularly helpful for individuals who have a locked or disabled iPhone, an iPhone with a broken screen, or a second-hand iPhone.

If you are facing any of these issues, then UnlockGo is the ideal solution. UnlockGo can easily bypass the lock screen on an iPhone that is disabled, locked, or broken. Additionally, UnlockGo can also help individuals who have purchased a second-hand device and are unable to access it due to the previous owner's passcode.

UnlockGo can also bypass iCloud activation lock without a password. If your iPhone is stuck at the Activation Lock screen, UnlockGo can help you remove the iCloud activation lock without Apple ID or password easily. This feature may prove particularly useful for individuals who have forgotten their Apple ID passwords or have not yet linked an Apple ID to their device.

When you are ready to sell your iOS device, UnlockGo can also be used to erase all data containing personal information and passwords. The program erases all data by factory resetting the device, thereby eliminating the possibility of restoring the data.

The unlocking process with UnlockGo is so simple that the passcode or iCloud activation lock can be unlocked in three easy stages by anyone, regardless of their technical expertise. Additionally, UnlockGo enables users to remove the previous owner's Apple ID without knowing the password. This allows the individual to set up their own Apple ID on the device and enjoy complete ownership.

UnlockGo also enables individuals to remove Find My iPhone without entering a password. Suppose you plan to sell your iPhones or iPads to a friend but have forgotten the Find My iPhone password. In that case, UnlockGo will help you turn off Find My iPhone without any password.

Finally, UnlockGo can bypass MDM login screens and remove MDM profiles without supervision. Additionally, it can reset screen time passcodes without a password. Thus, UnlockGo is a comprehensive tool that can help many individuals overcome various iPhone and iPad device issues.
What's New
Version 5.1.0: 1. Compatible with iOS 16
2. Fixed some bugs
Version 4.0.0: 1. Added a brand new function Screen Time Passcode Unlocker.
2. Added a new function to bypass Mobile Device Management lock.