USA Real Estate Map is a modern software solution that enables the display of real estate data in the form of a visually appealing and interactive map. It offers the flexibility to showcase information from any industry at the state or county level, and offers additional features such as state color changes and tooltips.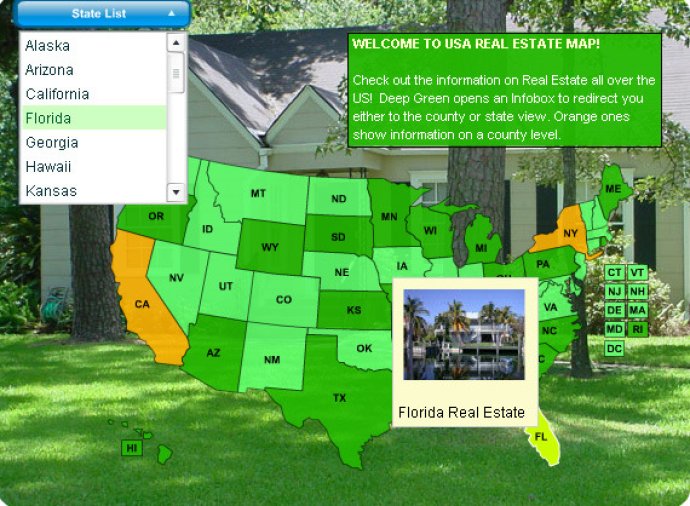 For commercial realtors, having accurate and reliable tools to publish available properties online and showcase them on their website is crucial. This is where the Interactive Real Estate Map comes in - a unique and amazing vector-based tool that is easy to use and specifically designed for real estate business in the USA.

With the USA Real Estate Map, realtors have the ability to specify regions, counties, states, and cities all in one interactive map. Best usability practices have been applied to develop the greatest interface for real estate maps ever designed, ensuring that users have a seamless experience while searching for properties.

The best part about the Interactive Real Estate Map is its ability to integrate with database listings. This makes it easy for realtors to specify which states and counties should be active on the map and pass on selected county names or IDs for further use. The map was developed to make large real estate listings simpler to use, therefore making the job of realtors easier.

USA Real Estate Flash Maps has transformed the real estate industry with its 3D transformations, flash animation, fast loading speed, and simple interface. Website users enjoy using these interactive real estate maps because it helps them narrow down their search quickly, while web masters appreciate how easy it is to customize and set up.

Overall, Interactive Real Estate Maps by USA Real Estate Flash Maps is a tool that provides real estate businesses with everything they need to showcase their properties online. The software is continuously updated to ensure its reliability and accuracy for commercial realtors.
What's New
Version 1.01: Possibility to fully customize the map!