This tool enables the user to block or unblock USB devices on a Windows operating system without any cost.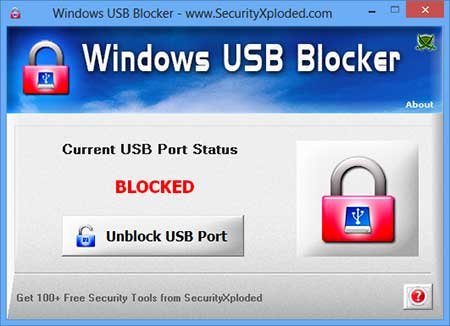 If you're looking for a quick and easy way to block or unblock USB storage devices on your Windows system, look no further than Windows USB Blocker. This free tool is designed to help prevent the spread of viruses and malware that can infect your system through USB devices.

One of the biggest risks associated with USB devices is the potential for them to be infected with a virus or other malware that can be unknowingly spread to other systems. To avoid this risk, experts advise disabling USB when you're not around. Windows USB Blocker makes it easy to do just that, instantly blocking USB devices to safeguard against these threats.

With Windows USB Blocker, you'll enjoy a range of features designed to make USB blocking simple and effective. These include a command-line feature for use in scripts and automation, as well as an interface that blocks only USB storage devices like USB sticks and disks - leaving regular USB devices like wireless keyboards, mice, and dongles unaffected.

Whether you're looking for a tool that's easy to use, highly portable, or fully compatible with all versions of Windows from XP to 10, Windows USB Blocker has you covered. With a fully portable design that requires no dependencies like JAVA or .NET, it's easy to install and uninstall as needed. And with both a GUI and command-line version available, you'll have complete control over how you block USB devices on your Windows system.
What's New
Version 5.0: New 2023 release supporting Windows 11. Now comes with enhanced USB blocker feature, new installer & OS functions. Also removed support for Windows XP
Version 4.0: Major 2019 edition to support USB blocking feature in latest Windows version.