This USB data recovery software can restore missing or corrupted files such as images, audio/video files, and documents. It allows for previewing lost folders before their recovery.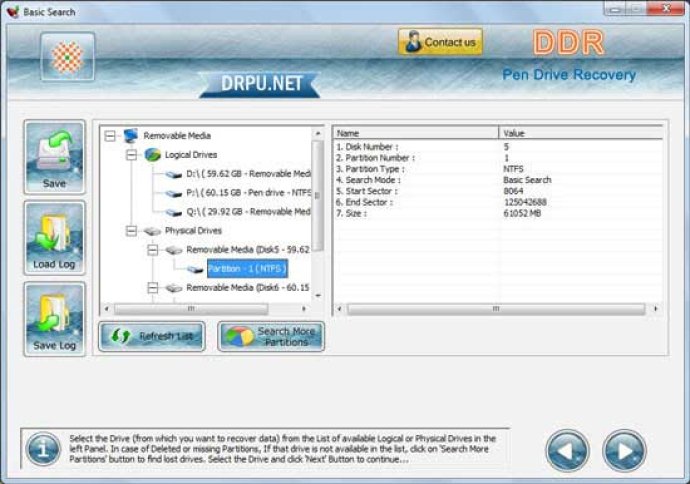 If you are looking for a reliable USB media drive formatted data unformat application, you can try out this efficient recovery tool. This non-destructive utility can efficiently recover lost or deleted images, pictures, audio, video, music or text files that were missing due to various reasons like human error, hardware malfunctioning, virus attack, disk format, damaged file system or improper system shutdown.

The USB drive data recovery software supports all major file formats including jpeg, jpg, mpeg, mpg, wav, bmp, doc, txt files. This makes sure that you can recover all types of files and documents that were lost or deleted from your USB drive. Whether it is a media file or a document, this software can retrieve all of them for you.

The USB flash drive deleted files undelete tool can restore permanently deleted data using shift + delete or files deleted from recycle bin. This feature makes sure that you don't have to worry about losing important files or documents. Even if you have deleted them permanently, this software can retrieve them for you.

The data retrieval tool performs in-depth scanning of all drives and facilitates advance searching of your missing folders. This means that you can locate the missing files or documents easily and quickly. The software also provides thumbnail preview of your deleted data before actual recovery and restores them at user specified location. This feature helps you identify the files that you need to recover.

The USB flash drive files restoration software supports all major brands of USB drive removable storage devices like Sony, Transcend, Kingston, Lenovo, Kingmax etc. This means that you can use this software to recover data from any type of USB drive that you have.

The USB media drive data retrieval utility is compatible with all major Windows operating system including Windows XP, Vista, 7, Server 2008, Server 2003, etc. This means that you can use this software on almost any computer running Microsoft Windows.

Overall, this USB drive data retrieval software is a great tool for recovering lost or deleted files from your USB drive. It has a GUI wizard which makes this software easy to operate and does not require any technical knowledge. The software follows a tree structure to perform searching of your missing folders. With its advance searching and preview features, you can easily recover all your important files and documents.
What's New
Version 6.8.4.1: Added support for major USB media drives